Demanding That Governor Lamont #FreeThemNowCT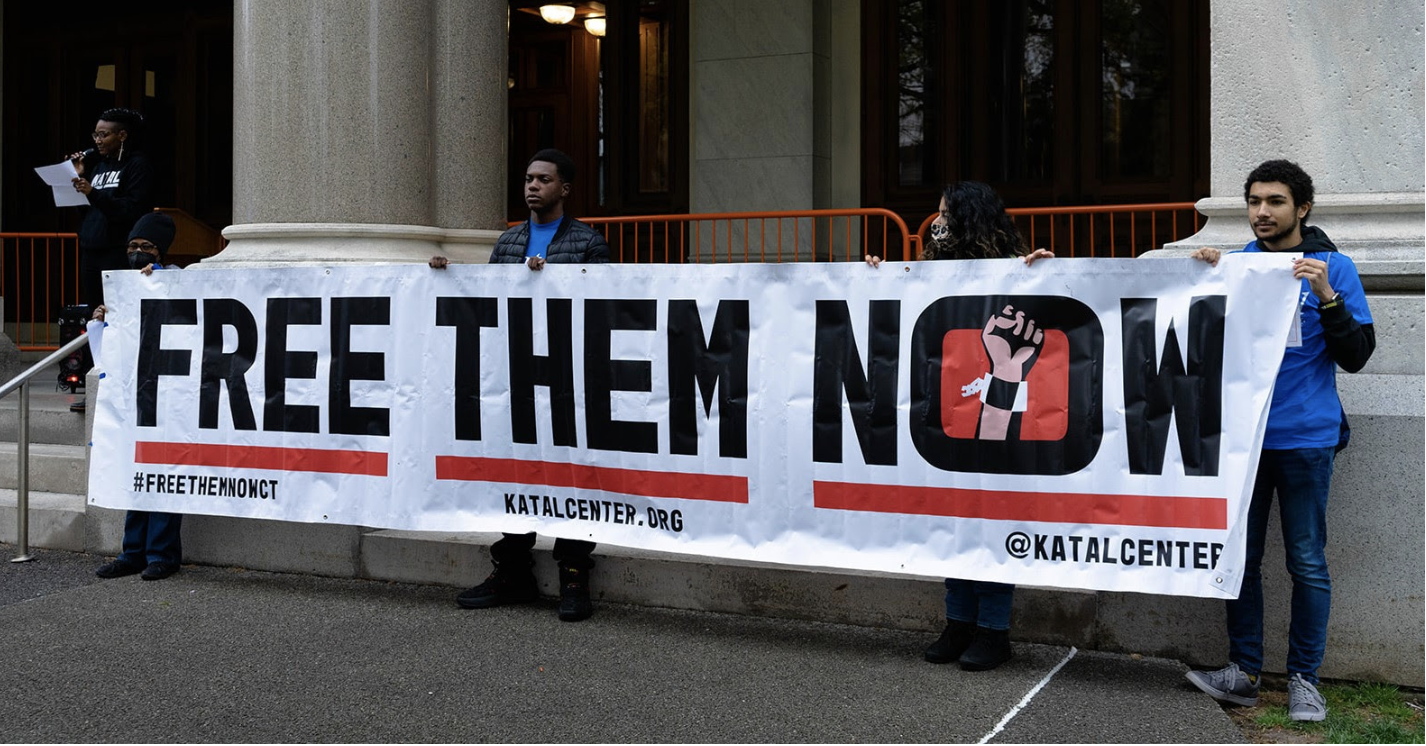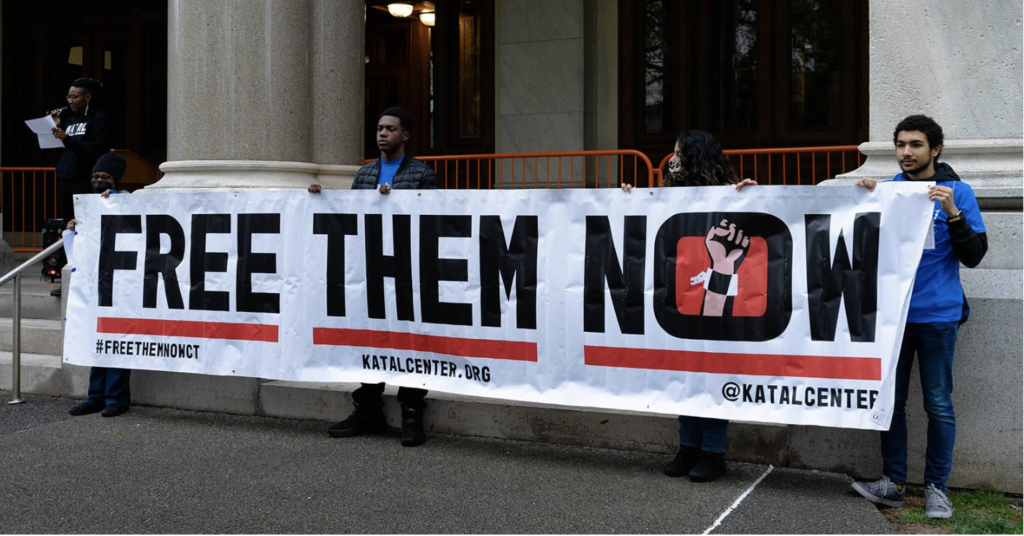 On July 6, another person died in the custody of the Department of Correction. Since the pandemic began, more than 90 percent of the entire jail and prison population statewide—more than 9,100 people—have tested positive for COVID-19.
Governor Lamont and state lawmakers have thus far failed to develop a comprehensive and transparent COVID-19 plan for the DOC, exacerbating the crisis in Connecticut's jails and prisons. Last September, the Prison Policy Initiative released a report grading every state prison system on its response to the pandemic. Connecticut earned an F+. As this latest death shows, Governor Lamont has done little to improve the response to COVID in state jails and prisons. Read our statement in response to the recent death.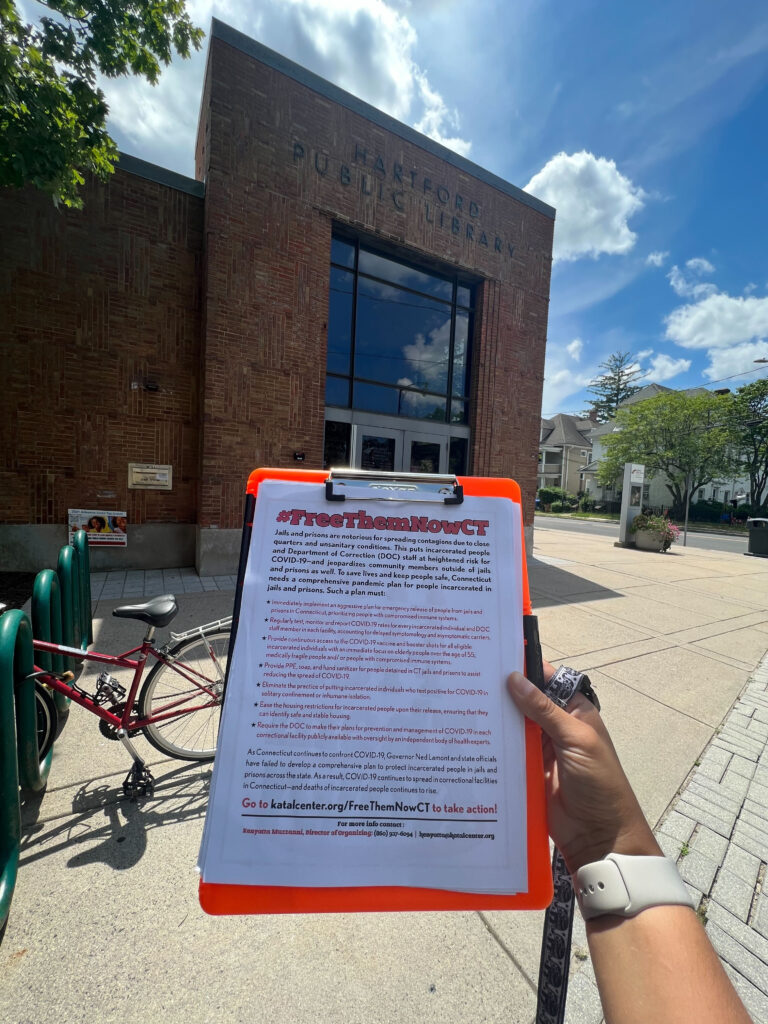 We are flyering across Connecticut to speak with people about the need for a comprehensive and transparent COVID-19 plan in the Department of Correction. This week we talked to community members and small business owners in Hamden, Bloomfield, New Britain, and Hartford.
With the recent wave of new cases, we are calling on Governor Lamont to develop a clear, coherent plan for reducing the impact of COVID-19 in DOC facilities, including implementing rigorous public health measures and ensuring people's rapid release from jails and prison. To learn more, check out our #FreeThemNowCT fact sheet. If you would like to get involved in our organizing and summer outreach, please get in touch with Kenyatta Muzzanni at kenyatta@katalcenter.org.
---
New Katal Op-ed: Community Supervision and Working Together to Make Change 
Almost 4 million people in the United States are under some form of "correctional" supervision in the community: probation, parole — or in the federal system, community corrections and supervised release. Every year, millions of them are sent to jail or prison not for a new crime but for violating the conditions of their supervision—breaking or allegedly breaking a rule like missing an appointment with a parole officer or using alcohol or marijuana. In Connecticut, thousands of people are incarcerated every year for noncriminal probation and parole violations. The most recent COVID-19 death in the state's DOC was a 63-year-old man who was terminally ill—and was incarcerated solely for technical violation of parole. That became a death sentence.
In this recent op-ed, Katal co–executive director gabriel sayegh discusses the perils of community supervision, both for his own family and more broadly across the United States. Check out the op-ed and let us know what you think.
---
 ICYMI: Katal on WPKN's What's Your Point?

Listen to our director of organizing, Kenyatta Muzzanni, on WPKN's show What's Your Point?. Kenyatta discusses the connection between LGBTQ+ rights and women's reproductive rights following the Supreme Court's decision last month to strike down Roe v. Wade, as well as the need to stay organized in this moment and beyond. Check out the full interview here. 
---
Katal Quotes of the Week
These are some of the quotes we're thinking about this week.
"Strong people don't need strong leaders."—Ella Baker
"I must become the action of my fate."—June Jordan"If I do not love the world, if I do not love life, if I do not love people, I cannot enter into dialogue."—Paulo Freire
---
Please support our work
We can't do this work without you. Please support our work to build leadership and organizing capacity of people to self-advocate and take action together for systemic change.
---
Be safe as possible out there, and get vaccinated as soon as you can. If you want to get involved, learn more about our work, or just connect, please don't hesitate to reach out.
Katal works to strengthen the people, policies, institutions, and movements that advance health, equity, and justice for everyone. Join us: web, Twitter, Facebook! Email: info@katalcenter.org. Phone: 646.875.8822.