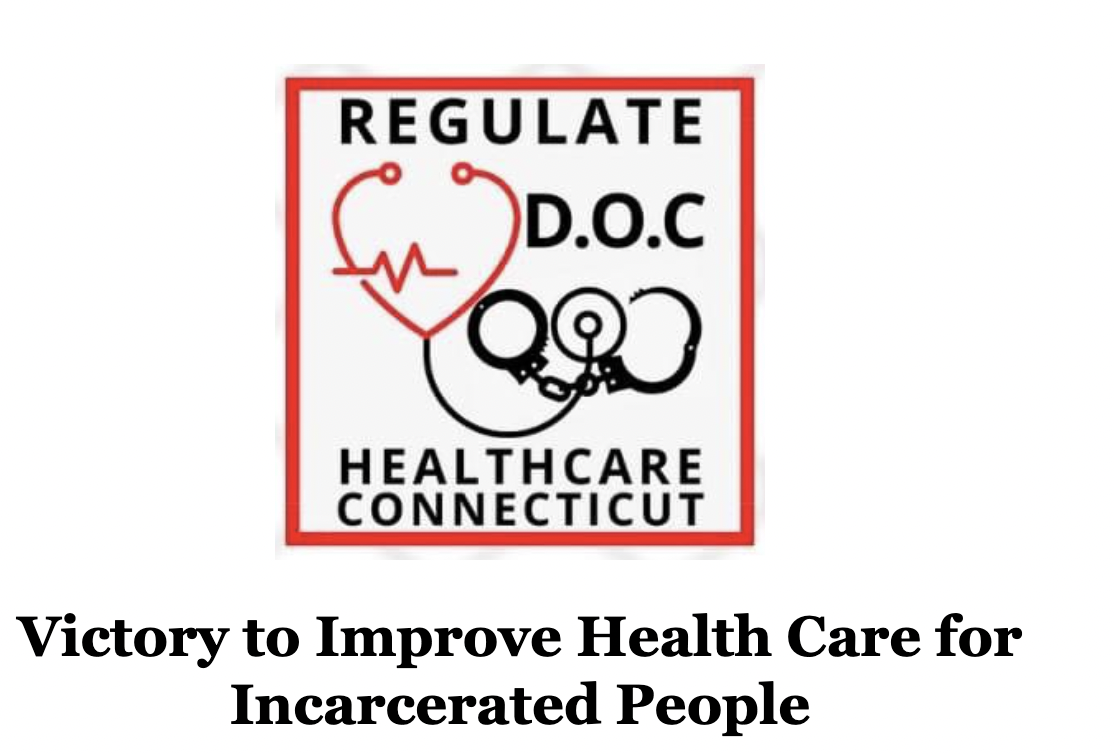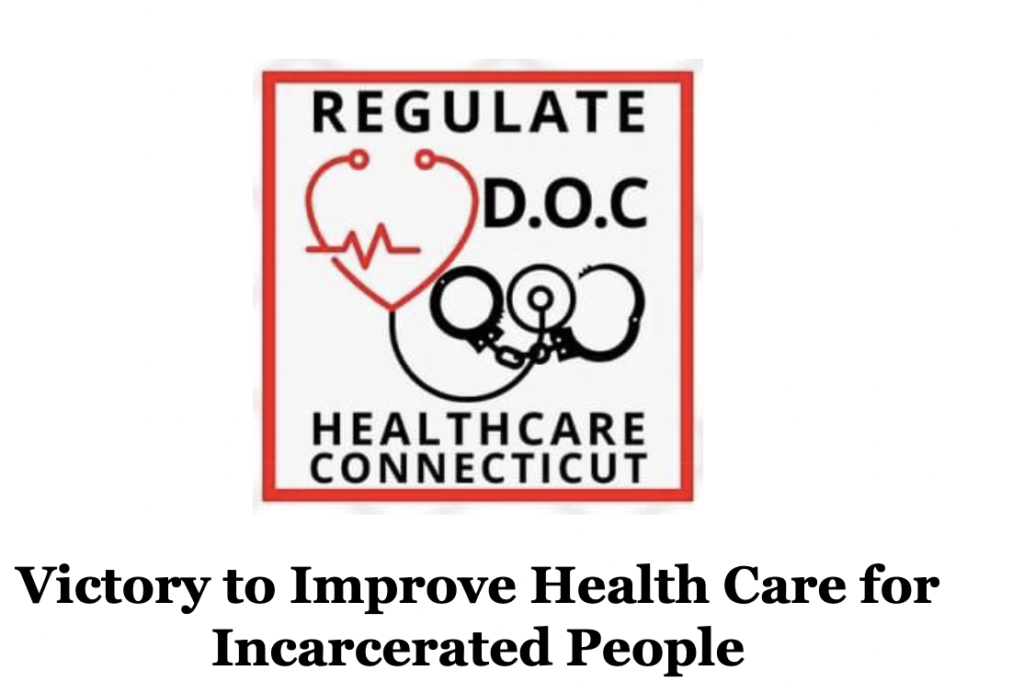 On Friday, May 29th Governor Lamont signed SB 448: An Act Concerning the Delivery of Health Care and Mental Health Care Services to Incarcerated People in Correctional Institutions into law. Since 2018, Connecticut has been the only state in the nation where the Department of Corrections (DOC) operates and oversees its prison medical system. It's been disastrous for incarcerated people. 
This legislation moves Connecticut one step closer to improved health outcomes for incarcerated individuals and returning citizens. The final version of the bill establishes a standard of care for all correctional institutions operated by DOC, improves care for the women incarcerated at York Correctional Institution, requires initial health assessments for everyone entering DOC custody, and much more. Check out the full bill language here.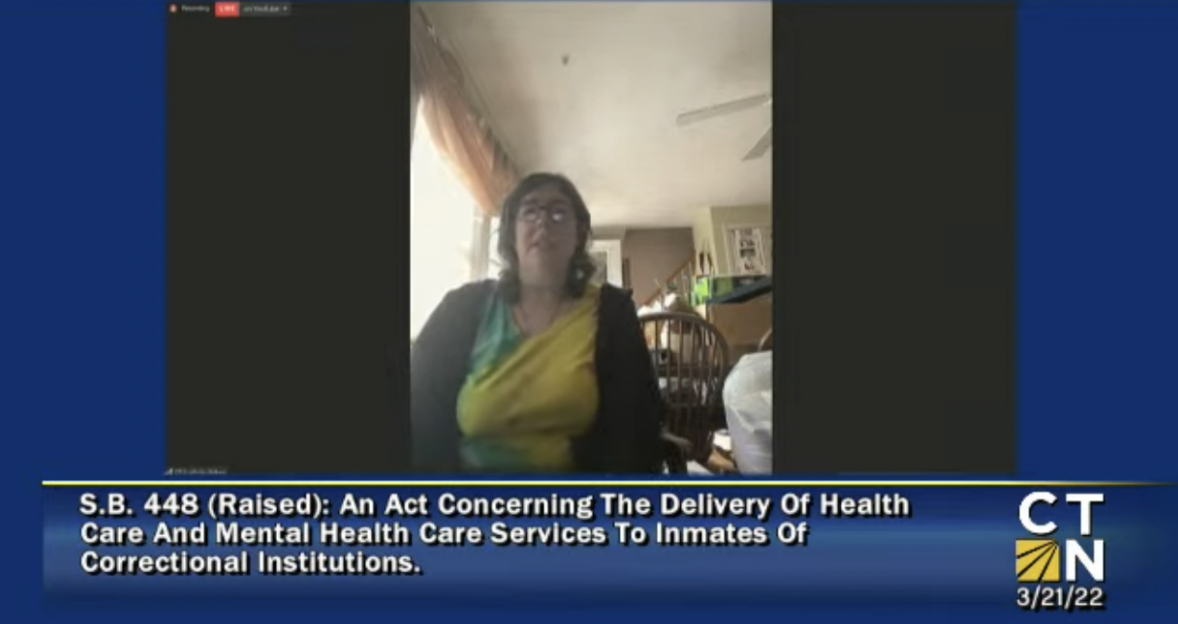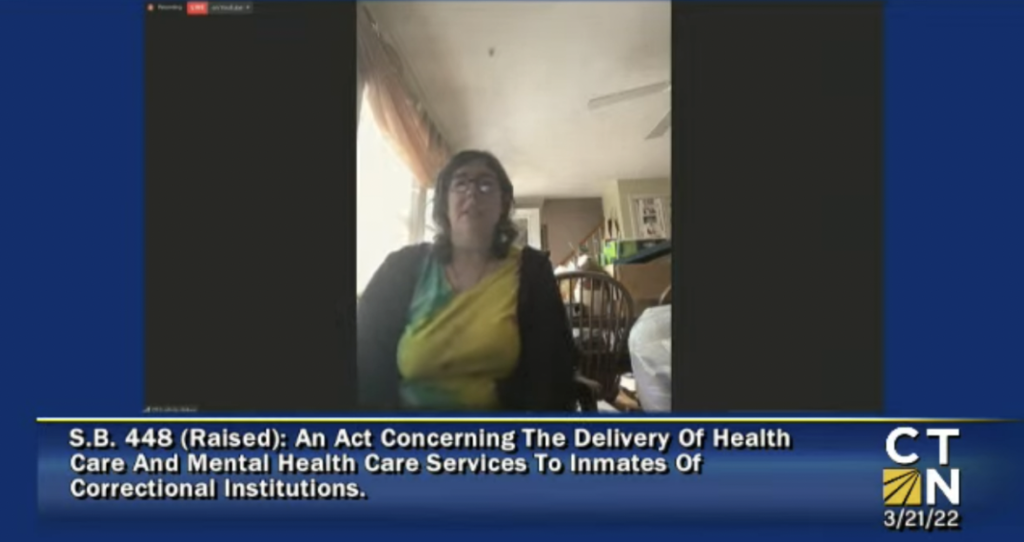 Katal member Liv testifying before the Public Health Committee in Support of SB 448
Congratulations to YWCA of Hartford, the Regulate DOC Healthcare CT Coalition and all the other organizations who helped make this win possible. Katal has long supported the passage of SB 448 as a member-organization of the Regulate DOC Healthcare CT Coalition. In March, Katal member Liv testified at the Connecticut legislature in support of the SB 448:
"Health care is absolutely a human right, and health care needs do not stop when a person enters the custody of a correctional facility. As incarcerated people are in the care of the state, it is the state's responsibility to provide basic needs. Health care services access, especially the inclusion of dental and mental health care services, should definitely be a priority for lawmakers this session."
Read Liv's full testimony here. For more information on the bill and ways to take action with the Coalition, click here.
---
CT Statewide Criminal Justice Reform Call Recap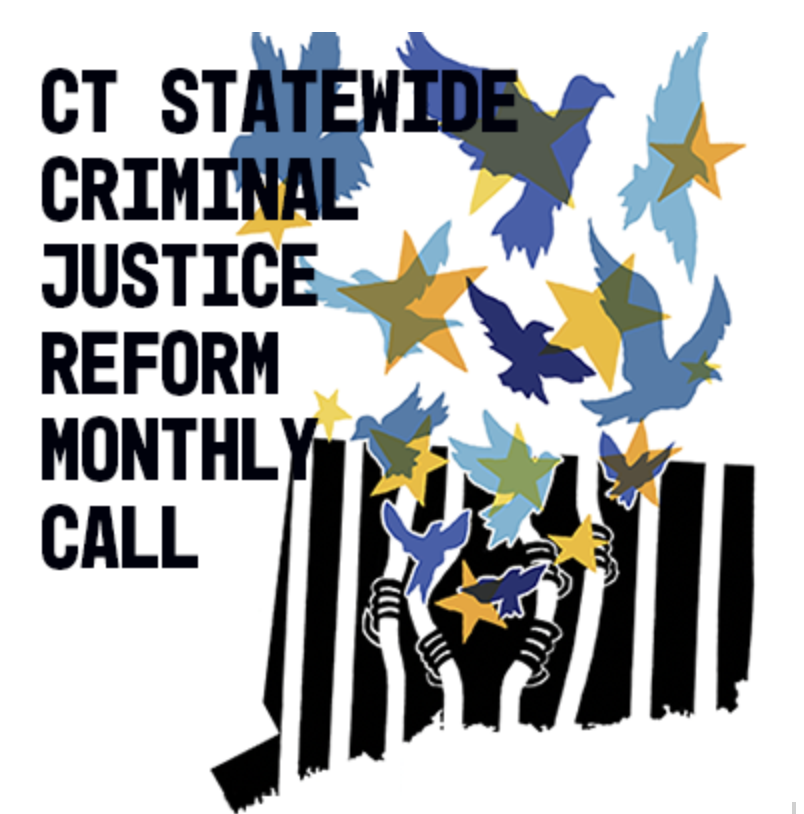 Yesterday, we held our June CT Statewide Criminal Justice Reform Call, where we discussed what happened at the end of session, which criminal justice bills were recently signed, and what this mean for criminal justice in the 2023 legislative session. Presenters included groups organizing around getting cops out of schools, improving health care in the DOC, ending solitary confinement, and the future of Whiting Forensic Hospital.
The monthly statewide calls will resume in September as we prepare for the 2023 legislative session. Register here to join us on Thursday, September 1 from 11:00 a.m. – 12:00 p.m.
---
We're hiring – CT Apprentice Community Organizer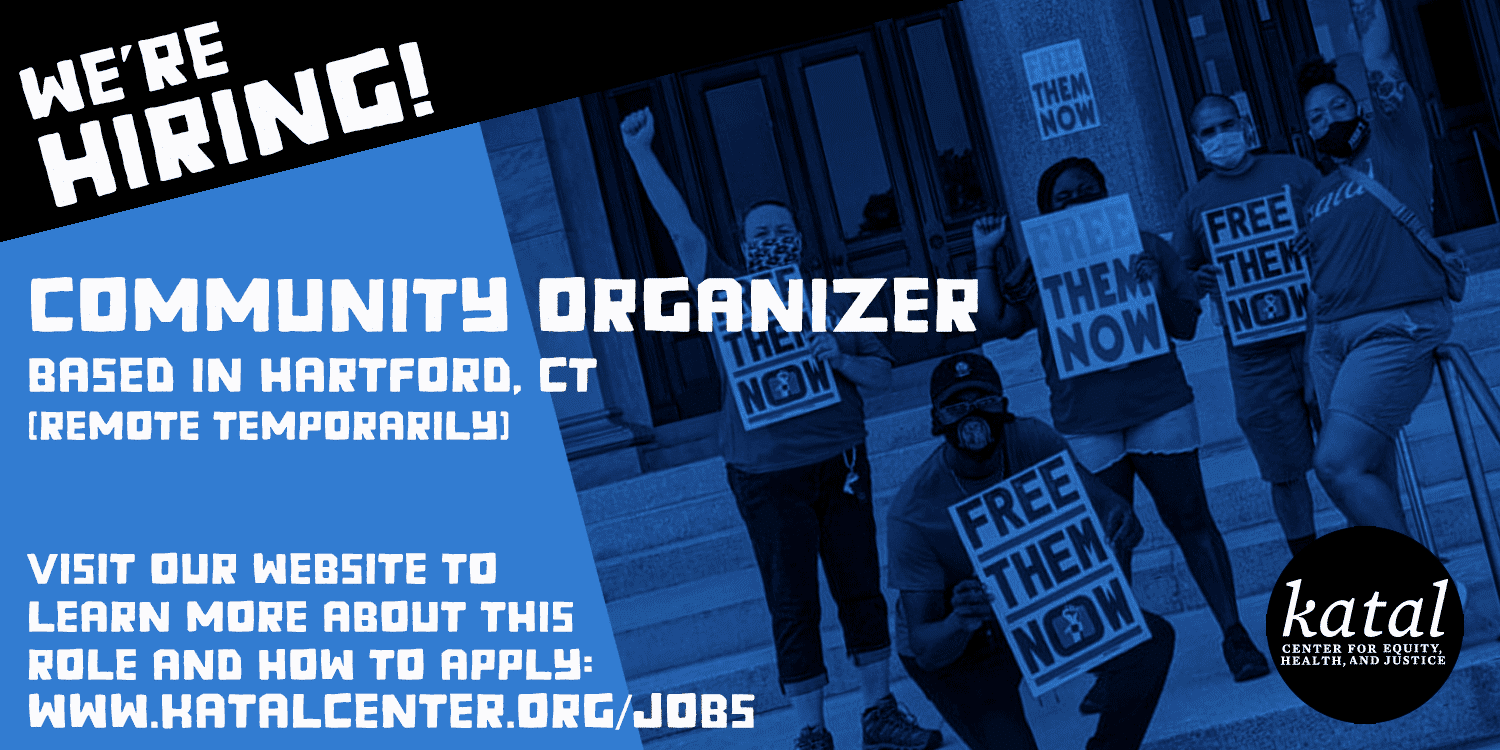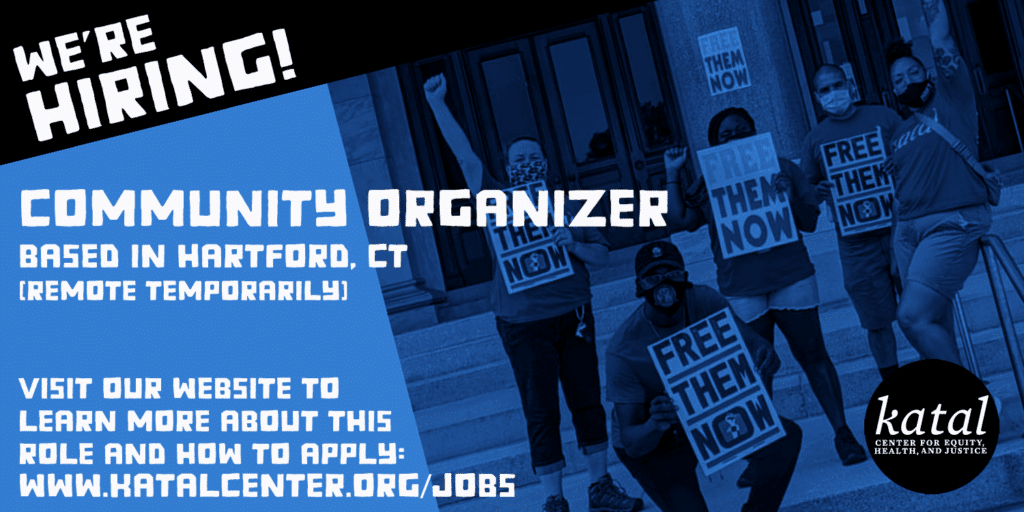 We're hiring for an apprentice community organizer in Connecticut through our flagship training program BLOC: Building Leadership and Organizing Capacity. Click here to apply for the Connecticut Apprentice Community Organizer Position!
Through our BLOC programs individuals learn:
Community organizing and harm reduction tools and strategies, and how to use them for systemic change;
How to build relationships that will increase participation in groups, coalitions, and campaigns; and
How to orient organizing and advocacy work toward undoing systemic racism and building movement.
The Apprenticeship is designed particularly for developing new organizers who are people of color—especially Black and Brown women—as well as young people and those impacted by systemic racism, the war on drugs, mass incarceration, and the consequences of a broken public safety net. Click here to learn more about the Apprentice Organizing Program.
Please share this posting in your networks or with anyone you think may be interested. Details about the position, including salary range and how to apply, are here!
---
Katal Quotes of the Week
"Failure is the key to success; each mistake teaches us something." – Morihei Ueshiba
"I'll rise up. I'll rise unafraid. I'll rise up. And I'll do it a thousand times again." – Andra Day
"Health is more than the absence of disease. Health is about jobs and employment, education, the environment, and all of those things that go into making us healthy." ― Joycelyn Elders
---
Please support our work
We can't do this work without you. Please support our work to build leadership and organizing capacity of people to self-advocate and take action together for systemic change.
---
Be safe as possible out there, and get vaccinated as soon as you can. If you want to get involved, learn more about our work, or just connect, please don't hesitate to reach out.
Katal works to strengthen the people, policies, institutions, and movements that advance health, equity, and justice for everyone. Join us: web, Twitter, Facebook! Email: info@katalcenter.org. Phone: 646.875.8822.