In this issue…
End of Session Update
CT Statewide Criminal Justice Reform Call
Save the Date: Katal at 5
End of Session Update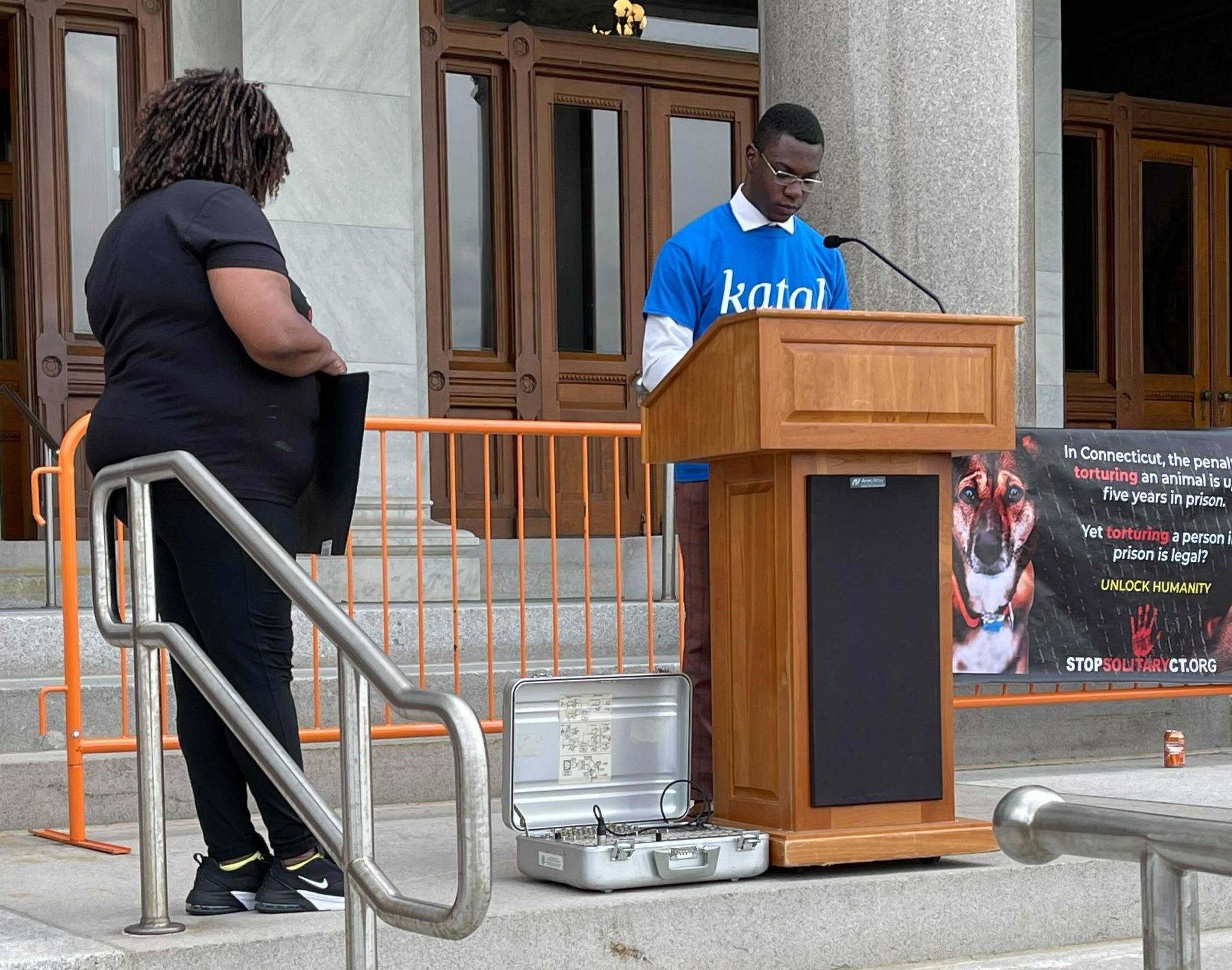 The Connecticut General Assembly concluded its regular session this week, and while lawmakers will be back for a special session later this summer, the final days were full of significant steps for criminal justice reform. Connecticut lawmakers passed The PROTECT Act to limit the use of solitary confinement, as well as the Clean Slate bill to automatically erase criminal records for certain convictions after a set period of time.
These advances followed years of organizing, advocacy, and activism; including a rally last week where we joined Stop Solitary CT & others at the Capitol to #unlockhumanity & demand the passage of The PROTECT Act. Our Member Isaiah spoke at the rally, expressing why Connecticut's lawmakers must act to end solitary confinement and #FreeThemNowCT. While the legislature passed the bill after the rally, Governor Ned Lamont has yet to sign it. He must sign it immediately.
While the Governor still needs to act to end the use of solitary confinement, he did sign Clean Slate, a bill that automatically erases criminal records for certain convictions after a set period of time. This is a great step forward for Connecticut that will have a tremendous impact on thousands of CT residents, the passage of Clean Slate was made possible by years of work of CONECT, ACLU-CT, the Greater Hartford Interfaith Action Alliance, & many others.
---
CT Statewide Criminal Justice Reform Call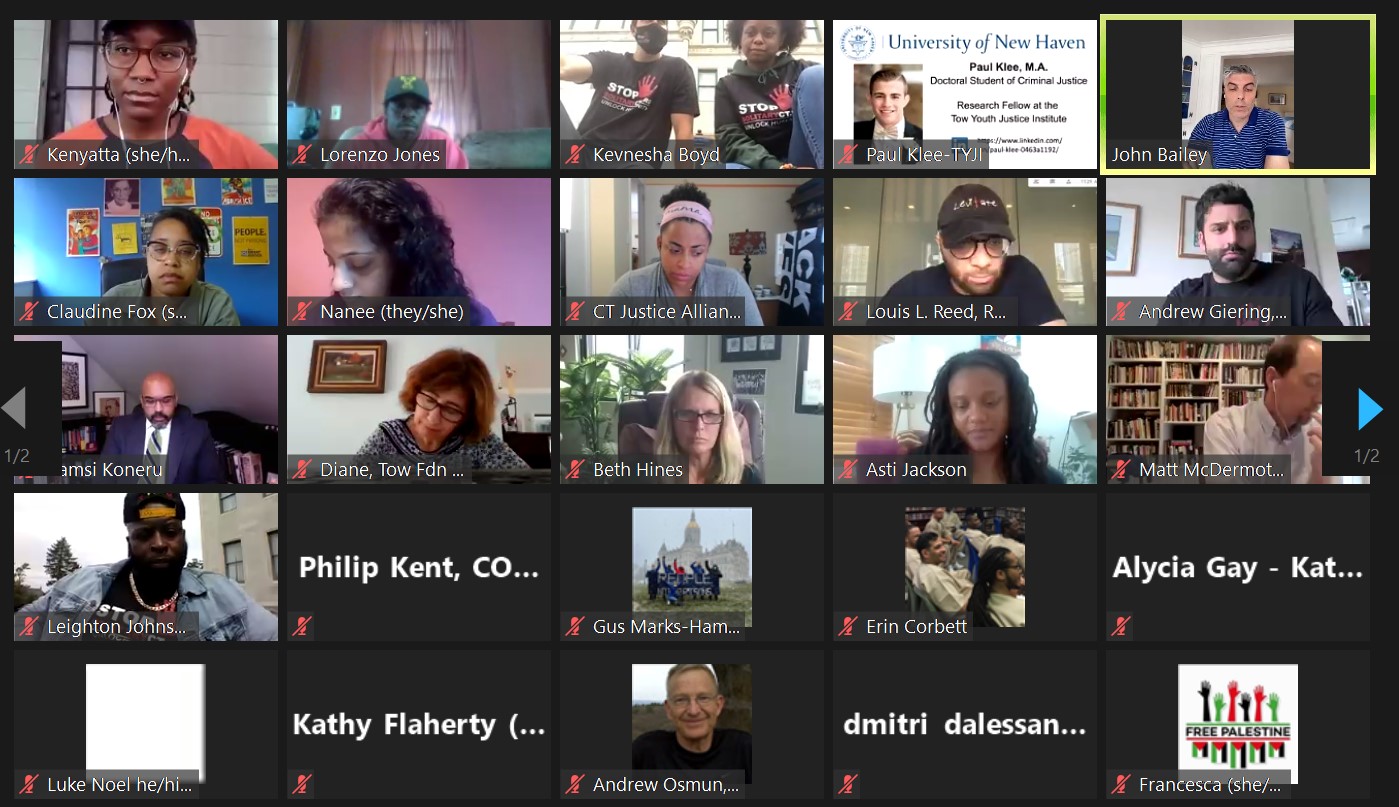 Our next CT Statewide Criminal Justice Reform Call is on Thursday, June 3 from 11:00 a.m. – 12:00 noon.
Last week, we hosted our CT Statewide Criminal Justice Reform Call. We had a lively discussion with updates on what's happening at the state capitol on criminal justice reform. Our speakers included:
John M. Bailey II, lobbyist with a legislative and budget overview.
Joseph Gaylin and Kevnesha Boyd, Stop Solitary CT on ending solitary confinement.
Christina Quaranta, CT Justice Alliance on raising the minimum age of incarceration.
Claudine Fox, ACLU-CT with an update on Clean Slate.
Tiheba Bain, Women Against Mass Incarceration (WAMI) on the Clemency CT Quilt Tour.
Register for our next CT Statewide Criminal Justice Reform Call, on Thursday, September 2 from 11:00 a.m. – 12:00 noon.
For more information, please contact Kenyatta at kenyatta@katalcenter.org.
---
Save the Date: Katal at 5
This year marks Katal's five-year anniversary, and on Wednesday, June 16th from 1:30 p.m. – 3:00 p.m., we're hosting our next event in our Dialogue Series – can you join us?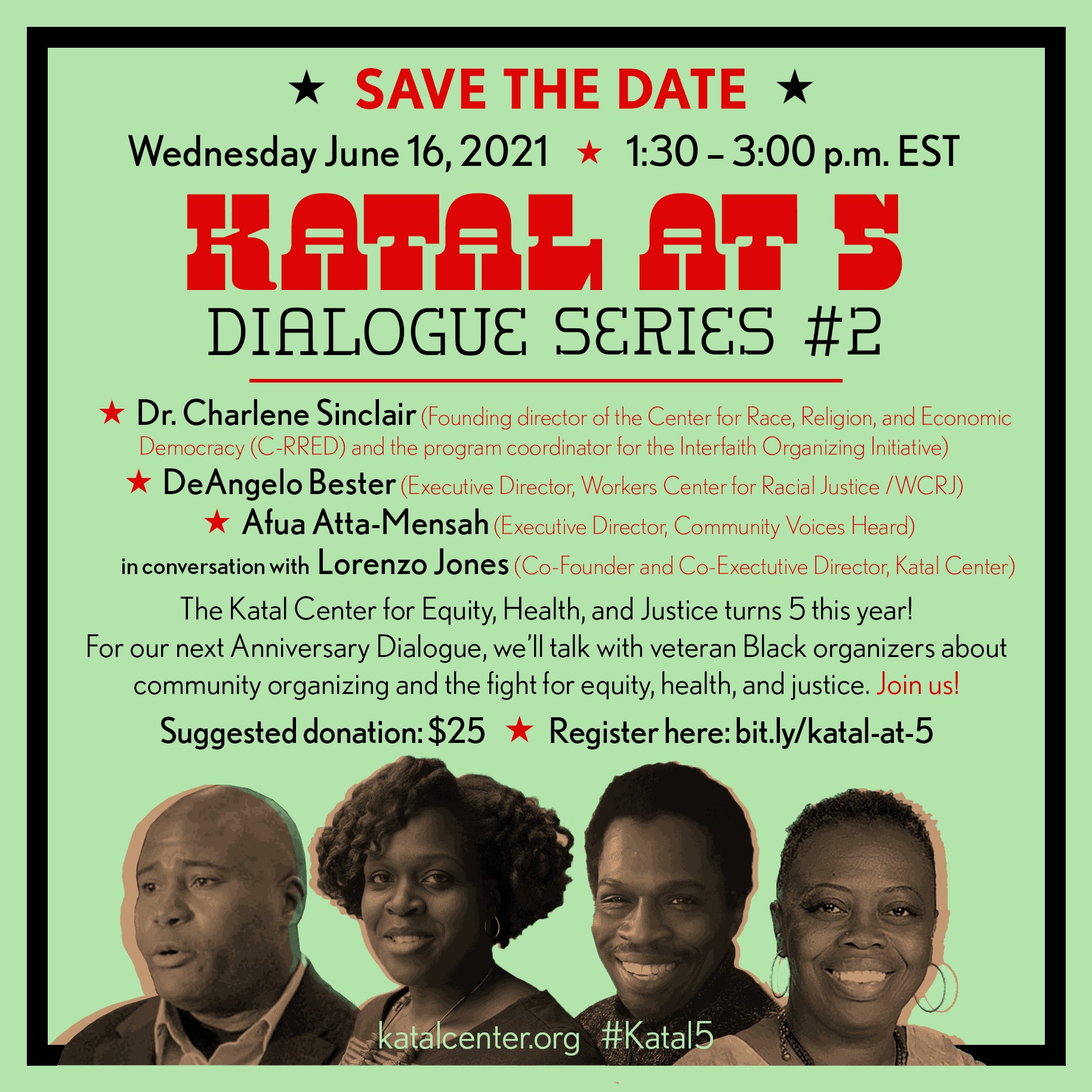 For our next Dialogue, we'll be joined by an amazing group of veteran Black organizers to discuss community organizing and the fight for equity, health, and justice:
Dr. Charlene Sinclair, Founding director of the Center for Race, Religion, and Economic Democracy (C-RRED) and the program coordinator for the Interfaith Organizing Initiative;
DeAngelo Bester, Executive Director, Workers Center for Racial Justice (WCRJ);
Afua Atta-Mensah, Executive Director, Community Voices Heard (CVH);
In a conversation with Katal Co-Executive Director, Lorenzo Jones.
We'd love for you to join us. If you joined us for our first Anniversary Dialogue, you know it was amazing. Don't miss out on this! Register at bit.ly/katal-at-5.
---
Sign up for the Katal New York Update
We announced in March that, after nearly 5 years, we're ending the Katal Weekly Update, and moving to two separate email updates — one for Connecticut, another for New York. If you'd also like to keep up what we're doing in New York, click here to sign up for the Katal New York Update!
---
Keep practicing social distancing, wear your mask, wash your hands, and check in on your neighbors. If you want to get involved, learn more about our work, or just connect, please don't hesitate to reach out.
Katal works to strengthen the people, policies, institutions, and movements that advance health, equity, and justice for everyone. Join us: web, Twitter, Facebook! Email: info@katalcenter.org. Phone: 646.875.8822.