In this issue…
End of Legislative Session Update
Katal at 5 Conversation with Black Organizers
End of Legislative Session Update
The Connecticut General Assembly concluded its special session last week. A number of prominent criminal justice reform bills were passed during the session, including free communications in prisons, the legalization of cannabis, restoration of voting rights for people on parole, and more.
Last week, Connecticut became the first state to provide free communications inside of state prisons. This law makes all telecommunication inside of prisons- phone and video calls – free for incarcerated people. Prior to this victory, Connecticut had some of the most expensive rates for phone calls to people in state prisons. With the signing of this bill by the Governor, Connecticut now leads the country in free telecommunications in prisons!
On Tuesday of this week, Governor Lamont signed a bill to legalize cannabis. Lamont's signature on the bill makes Connecticut the 19th state to legalize cannabis in the United States. The legalization of cannabis follows in the footsteps of other major drug policy reforms in Connecticut, including the equalization of crack and powder cocaine, the legalization of medical cannabis, and more.
The following day, Governor Lamont signed the 2022-2023 state budget, which included a provision to restore the right to vote for people on parole. The archaic practice of rescinding an individual's right to vote has disenfranchised predominantly Black, brown, and poor communities for decades. Now with the Governor's signature, thousands of Connecticut residents on parole will have their right to vote returned.
Unfortunately, one important piece of legislation that has yet to receive the Governor's signature is The PROTECT Act. The bill would end the use of long-term solitary confinement, and is an important step in protecting incarcerated people from inhumane conditions and torture. Passed out of the Senate and House in early June, this bill must be signed into law now.
These victories represent a huge step forward for our state, victories won by organizers, activists, and advocates. We are proud to support these reforms and we salute the groups that led this work, including CURE CT, Worth Rises, Unlock the Vote, Stop Solitary CT, and many more!
---
#Katal5 Dialogue with Black Organizers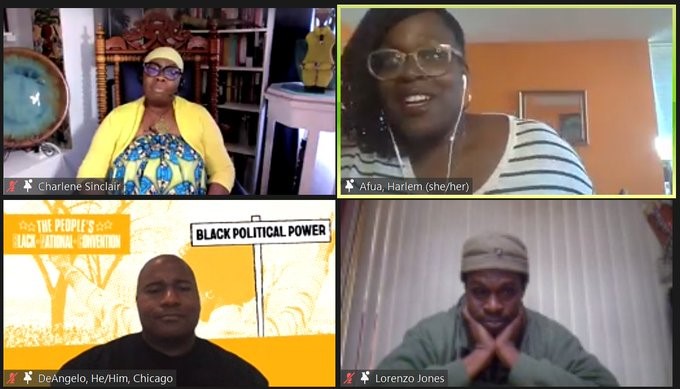 In advance of last weeks #Katal5 event with three amazing Black organizers, Lorenzo Jones, Co-Executive Director of Katal, wrote a short op-ed, reflecting on his own trajectory as an organizer. Last week's conversion included some of the best community organizers in the country and they had deep wisdom to share with us about how we can tackle the problems we face today. Some of the highlights include:
"I come to organize fully and happily as a disaffected lawyer when I got to a deeper analysis of what I was doing, that I wanted to work for the deeper liberation of Black and brown people." Afua Atta-Mensah, Executive Director, Community Voices Heard.
"A friend of mine said, there's a difference between organizing in the community and understanding the language in your neighborhood. You can do organizing from a distance or really do organizing in your hood." Dr. Charlene Sinclair, Founding director of the Center for Race, Religion, and Economic Democracy (C-RRED) and the program coordinator for the Interfaith Organizing Initiative.
"There were issues affecting people that I couldn't address as a labor organizer, which is what brought me to community organizing. I fell in love with the craft, and the people and work that I was doing."DeAngelo Bester, Executive Director, Workers Center for Racial Justice (WCRJ).
We hope you enjoyed this conversation! Please be on the lookout in the fall for our next dialogue in the #Katal5 Anniversary series.
---
Sign up for the Katal New York Update
We announced in March that, after nearly 5 years, we're ending the Katal Weekly Update, and moving to two separate email updates — one for Connecticut, another for New York. If you'd also like to keep up what we're doing in New York, click here to sign up for the Katal New York Update!
---
Keep practicing social distancing, wear your mask, wash your hands, and check in on your neighbors. If you want to get involved, learn more about our work, or just connect, please don't hesitate to reach out.
Katal works to strengthen the people, policies, institutions, and movements that advance health, equity, and justice for everyone. Join us: web, Twitter, Facebook! Email: info@katalcenter.org. Phone: 646.875.8822.