In this issue…
Elections and Statewide Call Organizing
Hiring a Development Director 
Quotes of the Week
Elections and Statewide Organizing 
Last week, Connecticut held statewide and municipal elections. Now that the smoke has cleared, we know that turnout was incredibly low — 31% (especially low when compared to presidential elections where nearly 80% of voters cast ballots). While Democrats won races in Stamford and took control of a few town councils in Avion, Enfrield, and Tollard, overall, Republicans had a strong showing. They picked on top offices in towns across the state from Ashford to Brookfeld and secured the mayor's office in Danbury and New Britain. 
What does this mean for criminal justice reform in Connecticut? To start, ahead of the elections Connecticut Republicans released a "blueprint" to a "safer Connecticut" where they called to move the state dangerously backwards by increasing criminalization and surveillance of young people in the state — see our response in Northend Agent. Following the strong municipal showing, conservative, anti-reform lawmakers will be emboldened to push more carceral and punitive legislation this upcoming session. We must intensify our local organizing and base building efforts across the state to shore up our allies and push back against the racist fear mongering some are spreading around juvenile justice and police reform. 
To that end, last week, we hosted our CT Statewide Criminal Justice Reform Call. We had a lively discussion within the field about next steps to defend and push for more criminal justice at the state capital.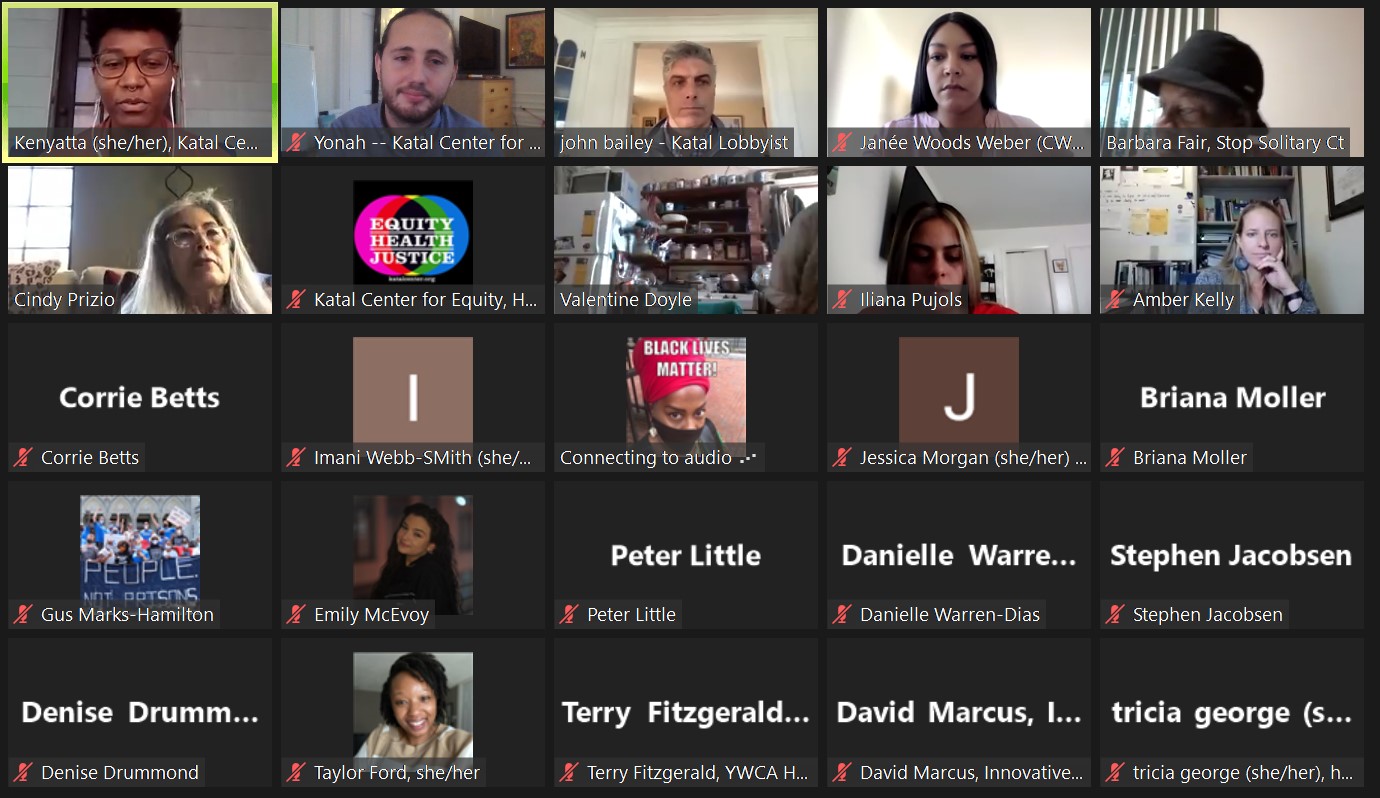 Kenyatta Muzzanni, Director of Organizing, facilitating CT statewide call, 11.4.21
Our speakers included:
John Bailey II

, lobbyist discussed the recent special session and what to expect during the upcoming short session. 

Barbara Fair, Stop Solitary CT

discussed the latest updates on the Protect Act, and their upcoming legislative agenda.

Cindy Prizio, One Standard of Justice

spoke about how the sentencing committee is considering changes to the SO Registry, following up from a 2019 bill that didn't pass. 

Ilana Pujols, Connecticut Justice Alliance

discussed the juvenile justice plan of the GOP, Lamont's recent comments about juvenile justice, and their work to combat this plan.

Janée Woods Weber, Connecticut Women's Education and Legal Fund

discussed the

CT Paid Family Leave bill, which will go into effect on January 1.
Register for our next CT Statewide Criminal Justice Reform Call, on Thursday, December 2 from 11:00 a.m. – 12:00 noon. 
If you have any questions about the statewide call or would like to present on an upcoming call, please contact Kenyatta at kenyatta@katalcenter.org
---
Hiring for a Development Director

We're hiring for a Development Director in Connecticut. The Development Director will  develop and contribute to fundraising strategies, writes grant proposals, and supports grant and donor management. This individual will work in close collaboration with the Director of Organizing to foster a healthy and collaborative fundraising culture across the organization. Click here to apply for the Development Director Position!
Here are some of the required skills:
Strong commitment to racial, social, and economic justice

Experience managing the grant pipeline from pre-award to post-award

Thrives in a collaborative and team-oriented environment

Superb writing and analytical skills and the natural curiosity and creativity needed to conduct online research

And much more. 
Please share this posting in your networks or with anyone you think may be interested. Details about the position, including salary range and how to apply, are here!
---
Katal Quotes of the Week
These are some of the quotes we're thinking about this week. 
"I believe unconditionally in the ability of people to respond when they are told the truth. We need to be taught to study rather than to believe, to inquire rather than to confirm."
 ― Septima Poisette Clark
"Movement culture is created when people need each other to win their own freedom, and they are willing to engage in collective sacrifice and actions that reinforce their solidarity."
 ― James Mumm
---
Sign up for the Katal New York Update
We announced in March that, after nearly 5 years, we're ending the Katal Weekly Update, and moving to two separate email updates — one for Connecticut, another for New York. If you'd also like to keep up what we're doing in New York, click here to sign up for the Katal New York Update!
---
Be safe as possible out there, and get vaccinated as soon as you can. If you want to get involved, learn more about our work, or just connect, please don't hesitate to reach out.
Katal works to strengthen the people, policies, institutions, and movements that advance health, equity, and justice for everyone. Join us: web, Twitter, Facebook! Email: info@katalcenter.org. Phone: 646.875.8822.