#FreeThemNowCT Action at DOC Headquarters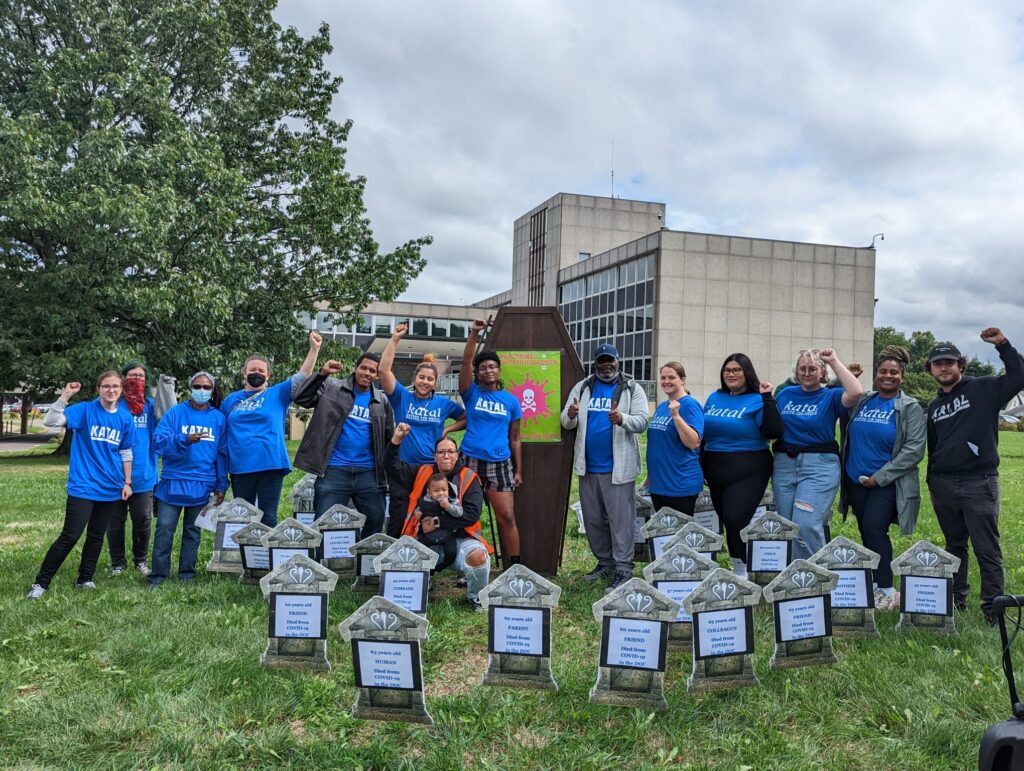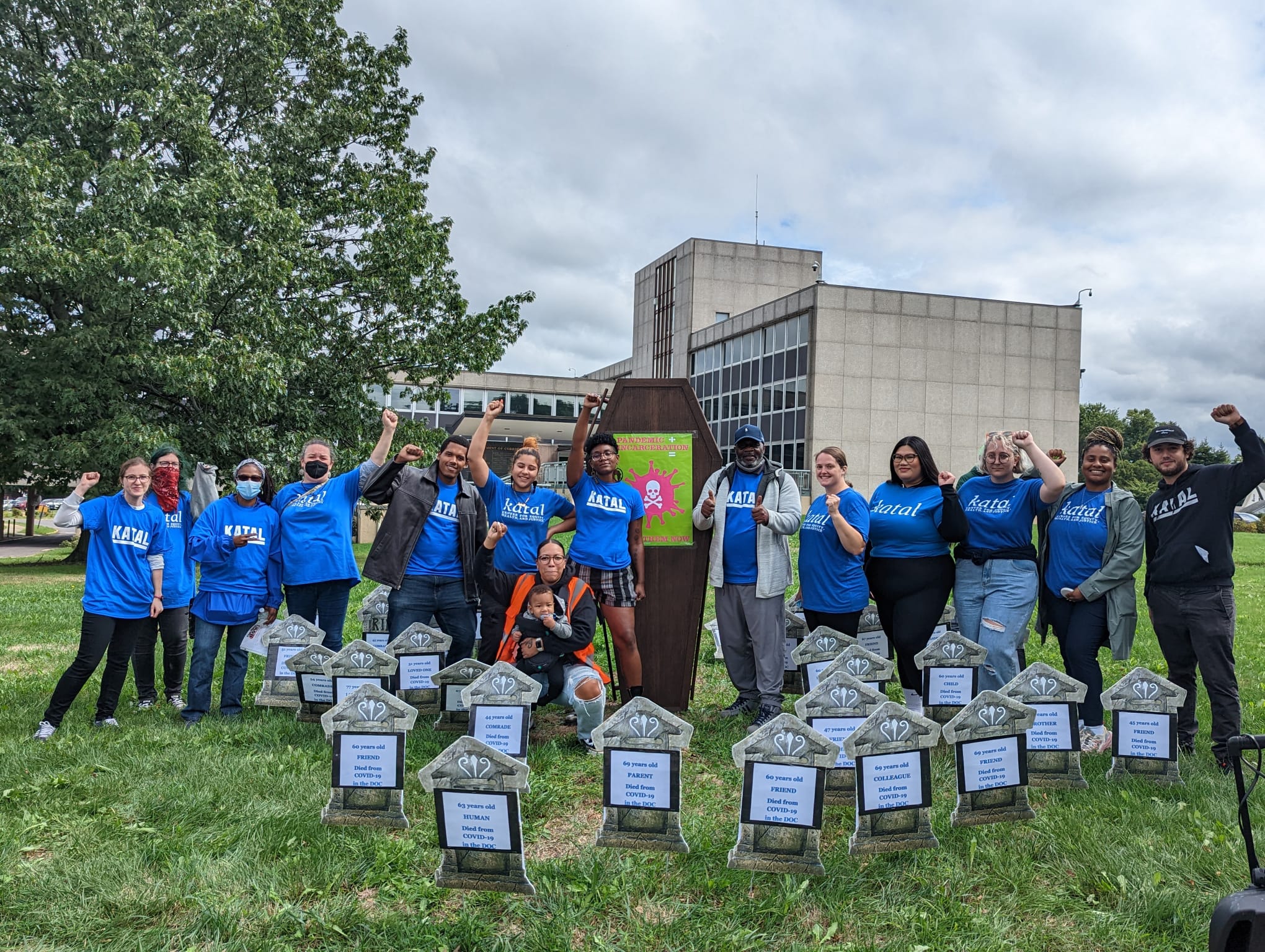 Yesterday, we held a #FreeThemNowCT action outside the Department of Corrections (DOC) Headquarters in Wethersfield. We demanded Governor Lamont and the DOC develop a substantive plan to protect incarcerated people from COVID-19. Since the pandemic began, nearly 9,500 incarcerated people have tested positive for the virus, equaling over 90% of the entire state jail and prison population. This is unacceptable, especially in the wake of other public health emergencies that will disproportionately impact incarcerated people.
During the action, we placed 30 graves and casket on the lawn of the DOC Headquarters to honor the 30 people have died in DOC custody due to the virus.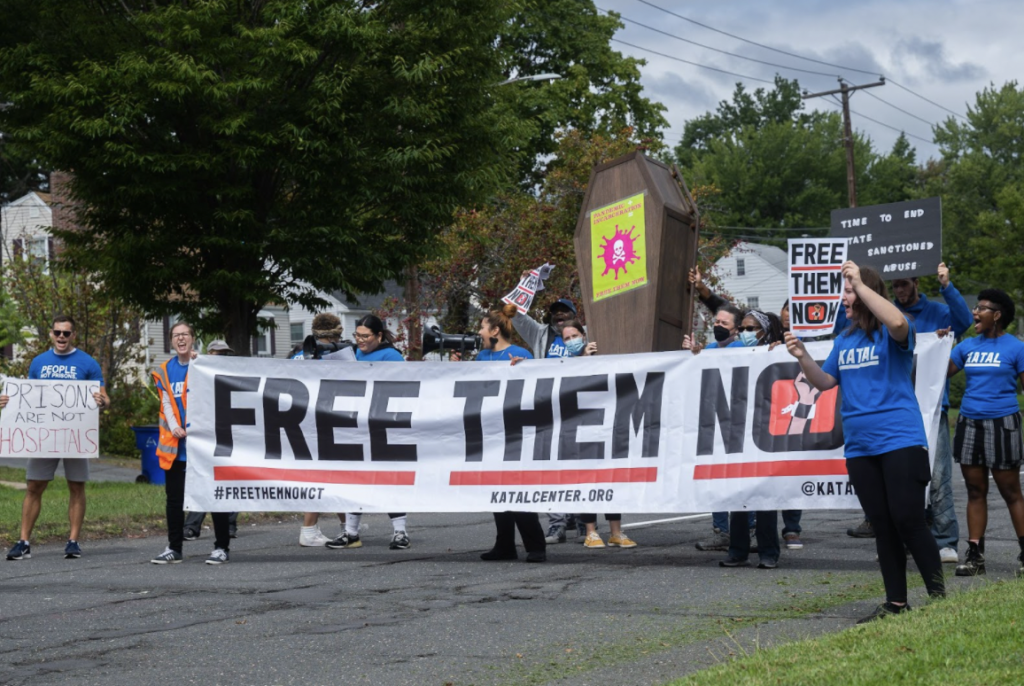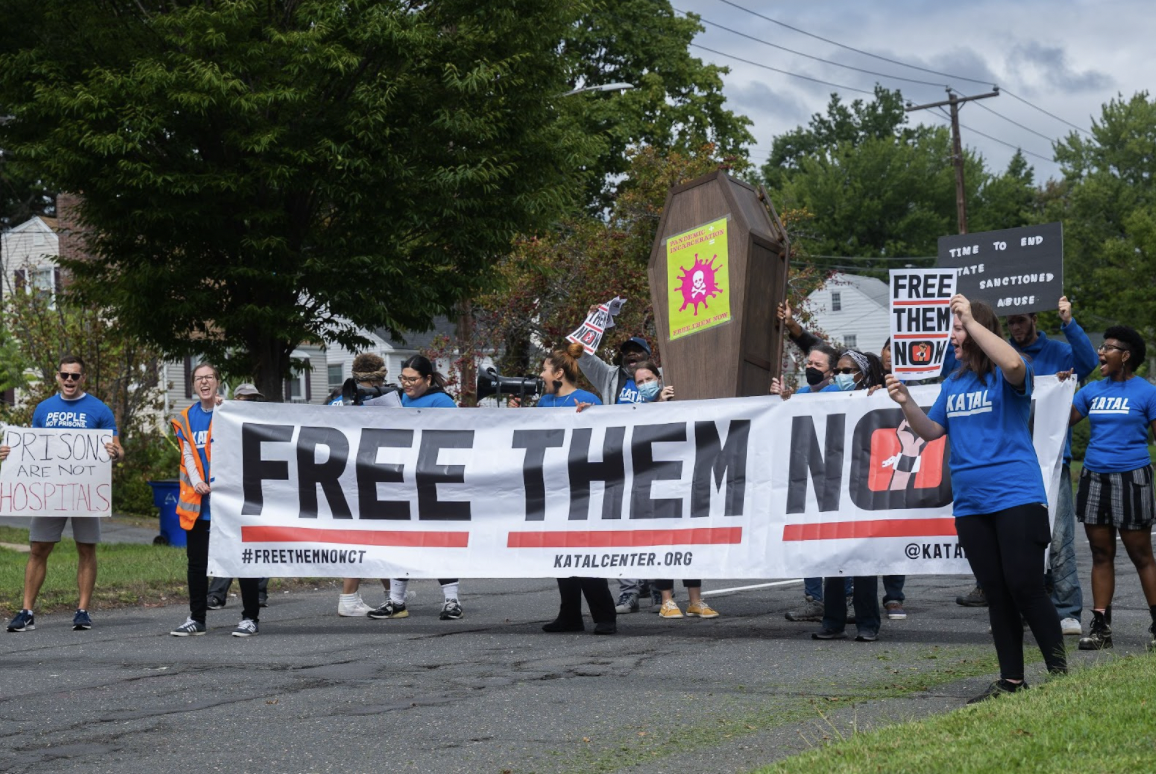 At the end of the action, we blocked traffic in front of the DOC Headquarters to demand for Governor Lamont to take action to protect incarcerated people. Without action from the Governor, COVID-19 will continue to spread throughout Connecticut jails and prisons, disproportionately impacting Black, brown, and poor people. Check out the press release.
You can also watch videos of the action on our Instagram and see highlights here. The protest was covered by the Connecticut Public Radio and NPR's WSHU.
Want to join an upcoming action and get involved in our #FreeThemNowCT campaign? Reach out to Kenyatta Muzzanni at kenyatta@katalcenter.org.
---
Next Thursday: Catch Up with Katal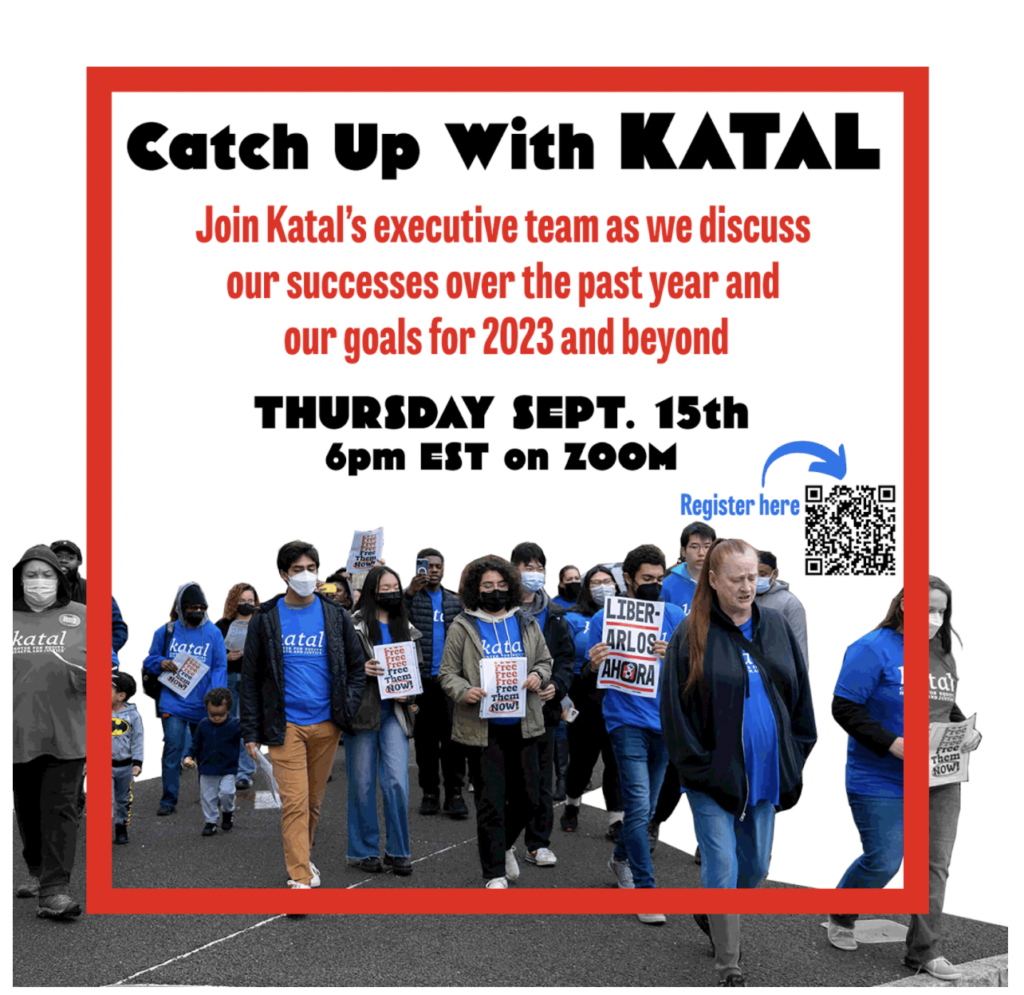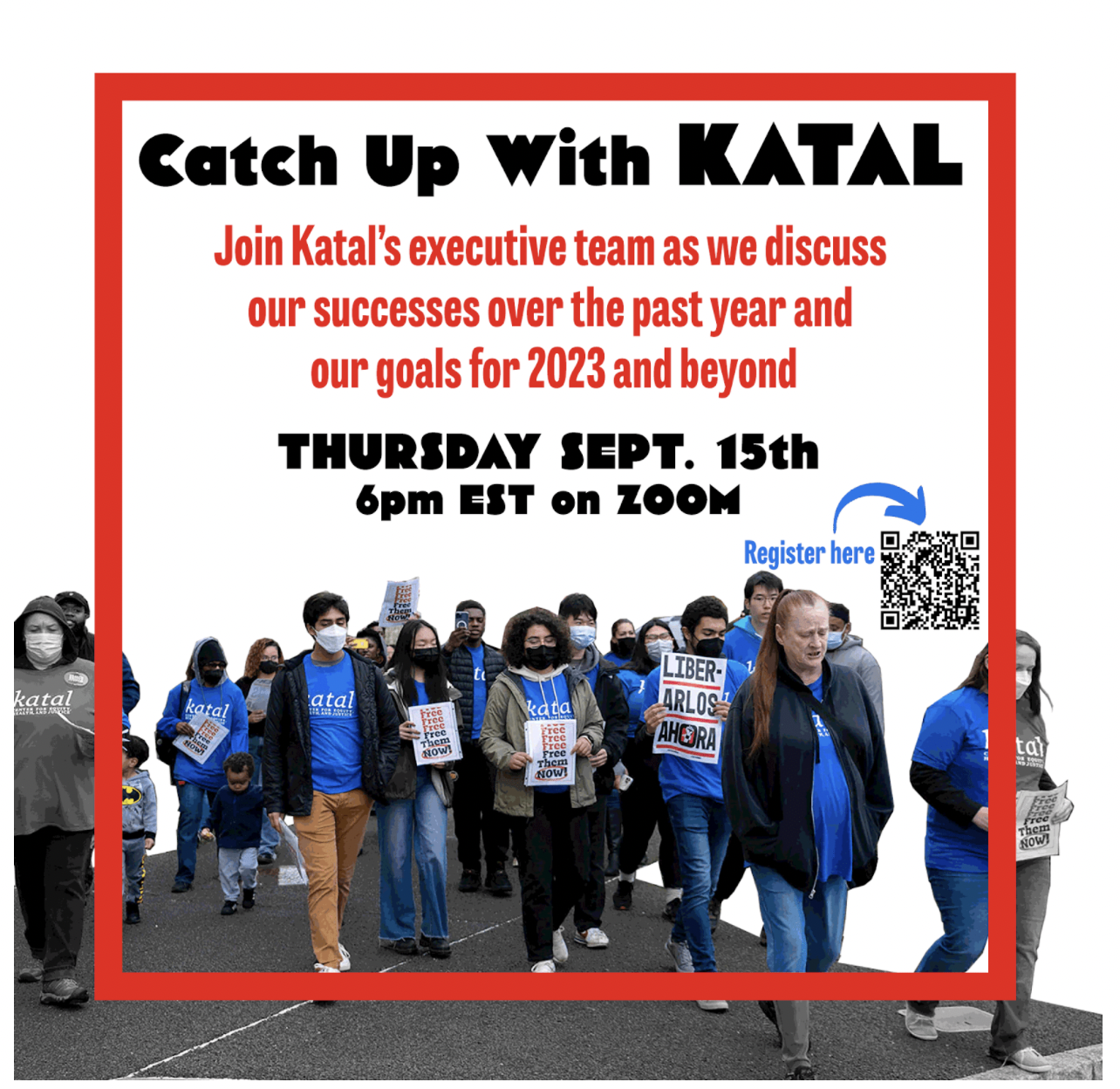 Want to learn more about Katal? Join us next Thursday, September 15, at 6 p.m. ET via zoom for our inaugural Catch Up with Katal event. Hear our executive team discuss our successes over the past year and our organizational goals going forward. Following the presentations, there will be a Q&A session. Register here to attend.
To learn more about Catch Up with Katal, contact Camryn at camryn@katalcenter.org.
---
We're hiring – CT Community Organizer Position
We're hiring a community organizer in Connecticut! This is a great opportunity to join a stellar organizing team.
Are you an organizer interested in:
Building collective power.
Developing leadership of neighborhood residents.
Working on campaigns to end mass incarceration & the war on drugs in CT.
Click here to apply for the Connecticut Community Organizer Position!
Please share this posting in your networks or with anyone you think may be interested. Details about the position, including salary range and how to apply, are here!
---
Katal Quotes of the Week
These are some of the quotes we're thinking about this week.
"We are all works in progress, always in the process of being and becoming. Periodically there come times like the present when the crisis is so profound and the contradictions so interconnected that if we are willing to see with our hearts and not only with our eyes, we can accelerate the continuing evolution of the human race towards becoming more socially responsible, more self-conscious, more self-critical human beings. Our country is also a work in progress. This is our time to reject the old American Dream of a higher standard of living based upon empire, and embrace a new American Dream of a higher standard of humanity that preserves the best in our revolutionary legacy. We can become the leaders we are looking for.
Towards that end we need to keep combining practice with reflection and urgency with patience. That is what I have learned after nearly seven decades of struggle for radical social change."
-Grace Lee Boggs
"My rhymes are so dope and the rappers be hoping
To sound like me, so soon I'll have to open
A school of MCing, for those who want to be in
My field in court, then again on second thought"
— Big Daddy Kane, "Ain't No Half-Steppin"
---
Sign up for the Katal New York Update
Want to receive updates about our work in New York? Sign up here!
---
Be safe as possible out there and get vaccinated as soon as you can.
If you want to get involved, learn more about our work, or just connect,
please don't hesitate to reach out.
Katal works to strengthen the people, policies, institutions, and movements that advance equity, health, and justice for everyone.
Join us: web, Twitter, Facebook!
Email: info@katalcenter.org • Phone: 646.875.8822