Death Toll on Rikers Continues to Rise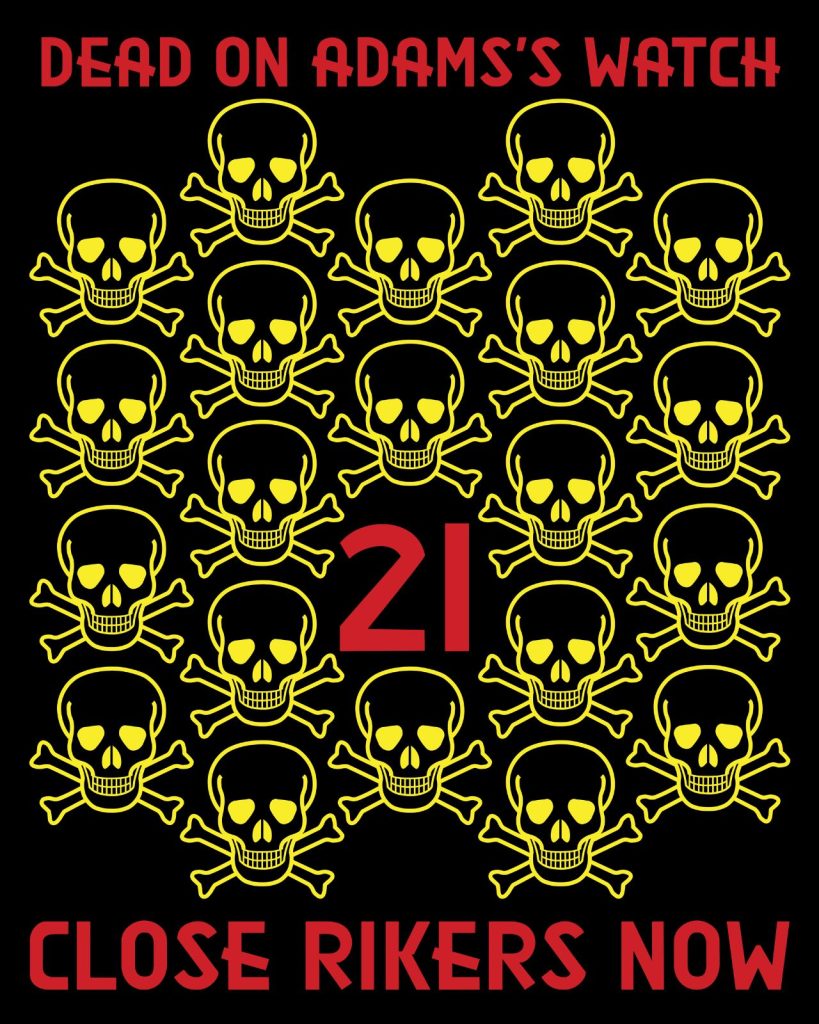 Rikers is a horrendous, nonstop disaster. On Wednesday, news broke that yet another incarcerated person died at the Rikers Island Jail Complex. This is the 21st person to die in city jails since Eric Adams became mayor. Instead of working to address the crisis and close Rikers, Mayor Adams is working overtime to make it worse. 
This week alone, Mayor Adams has proposed cutting essential reentry and other service programs for people jailed at Rikers, even though these programs are essential to public safety. The very next day he proposed housing asylum seekers – who are pursuing their legal right to apply for asylum – in a dilapidated, currently-closed jail facility on Rikers. While the mayor is actively deteriorating the conditions at Rikers, he's simultaneously working to undermine the oversight role of the Board of Correction, including by appointing a new chair whose sole purpose is to hinder the board from functioning at all.
We put out a statement in response to the horrible news coming out of Rikers this week and we call on the City Council to use its power in the budget process to hold this mayor accountable and advance efforts to reduce the city's jail population and shut down Rikers. 
"This is madness. It's a scandal happening right out in the open. If Adams has his way, Rikers will remain open forever and the city's entire social safety net will be dismantled. It's sickening. This is why organizations and communities groups all across the city, representing a wide-range of issues, are fighting back against the mayor's regressive and draconian agenda. Katal joins our allies in calling on the City Council to use its power in the budget process to hold this mayor accountable. The city must cut the jail population, shut down Rikers, and invest in true public safety: housing, health care, education, and jobs." 
Check out our full statement here and see coverage of the recent death in the news.
To support the fight to close Rikers, please join us next Thursday, May 25th at 5 pm for our Close Rikers Phone Banking Session. We'll be speaking with community members about the crisis at Rikers, the need to shut down the jail complex once and for all, and how to get involved! RSVP for the action here!
To join the fight to close Rikers, please reach out to Melanie Dominguez at melanie@katalcenter.org. 
---
March for Care, Not Criminalization on Wednesday 5/24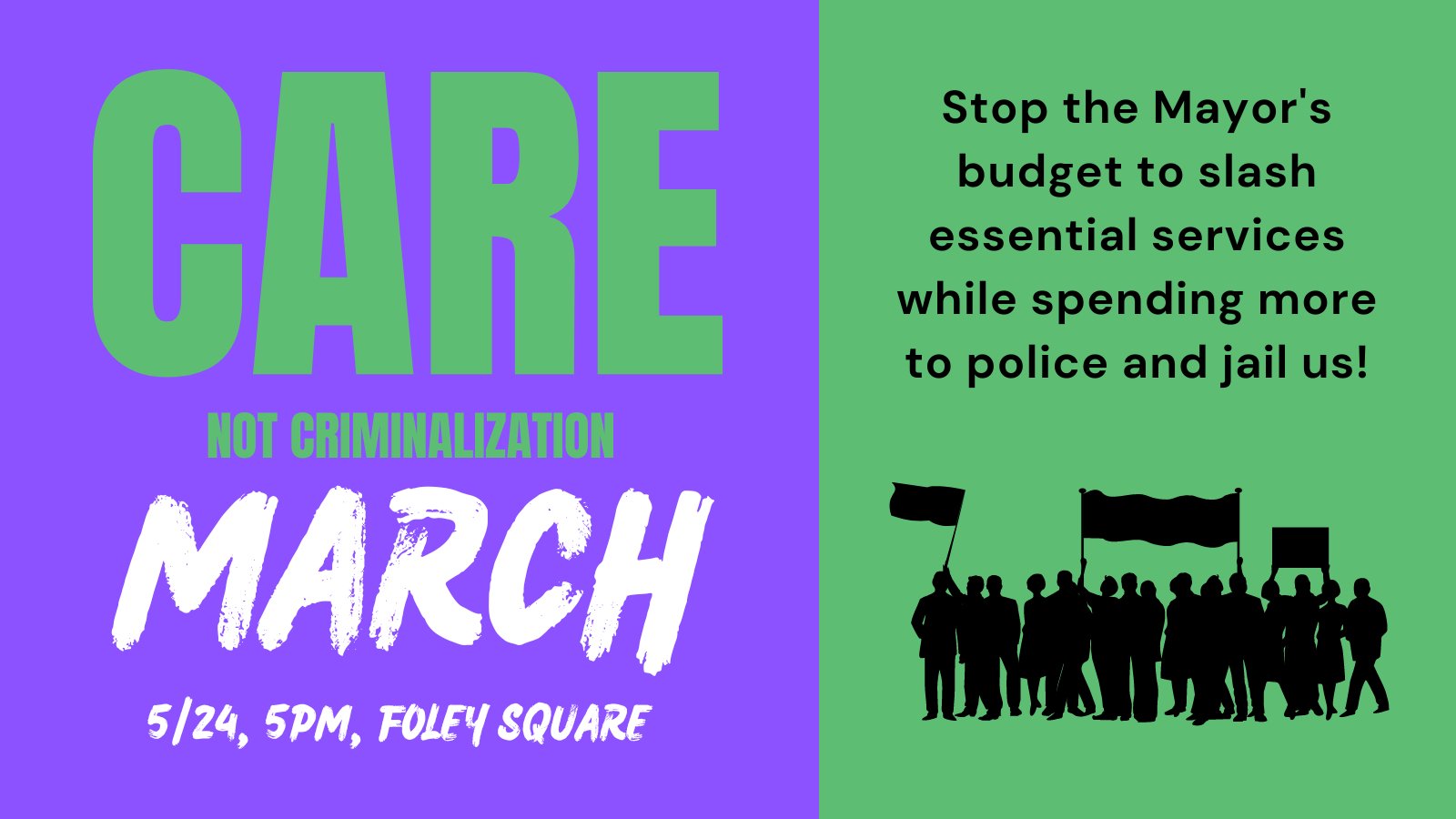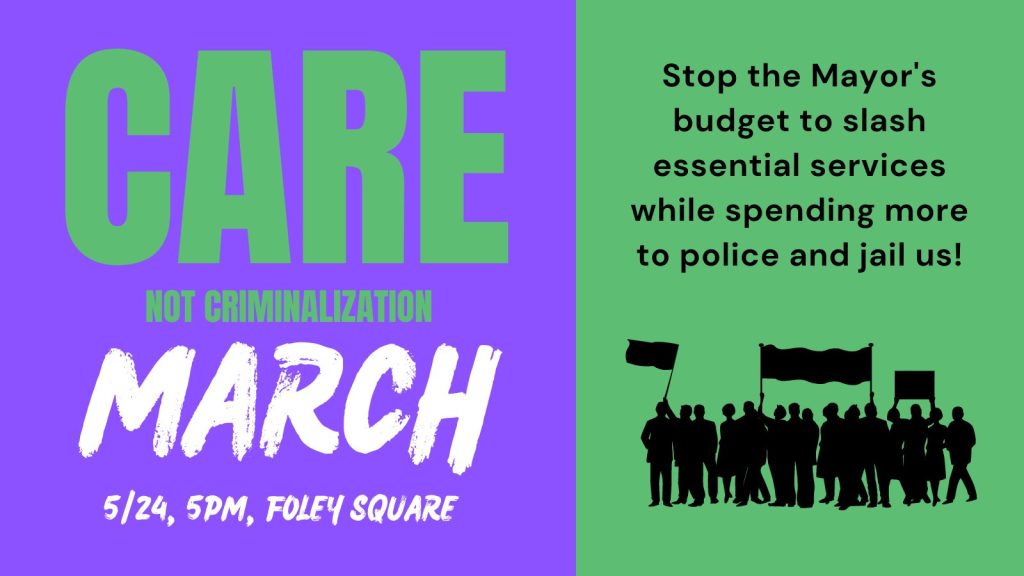 Mayor Adams is proposing deep budget cuts to essential services such as libraries, pre-K, CUNY, schools, and more in this year's city budget. All while continuing to excessively spend on policing and caging Black, brown, and low-income New Yorkers. On Wednesday, May 24 at 5 pm we're marching for Care, Not Criminalization with CPR, the People's Plan, and dozens of community groups to demand accountability from the Mayor and push for investments in care, not police and jails. Can you join us?
To RSVP for the march, please reach out to Melanie Dominguez at (516) 588-0127 or by email at melanie@katalcenter.org. 
---
Katal Quotes of the Week
These are some of the quotes we're thinking about this week.
"The connections we make in the course of a life–maybe that's what heaven is." —Fred Rogers
"Oppressed people, whatever their level of formal education, have the ability to understand and interpret the world around them, to see the world for what it is, and move to transform it." —Ella Baker
---
For printing and distribution, download the Katal Weekly Update PDF version.
Katal works to strengthen the people, policies, institutions, and movements that advance equity, health, and justice. Join us: web, Twitter, Instagram, & Facebook! Email: info@katalcenter.org Phone: 646.875.8822.