Get Out the Vote: CJ Reform is on the Ballot!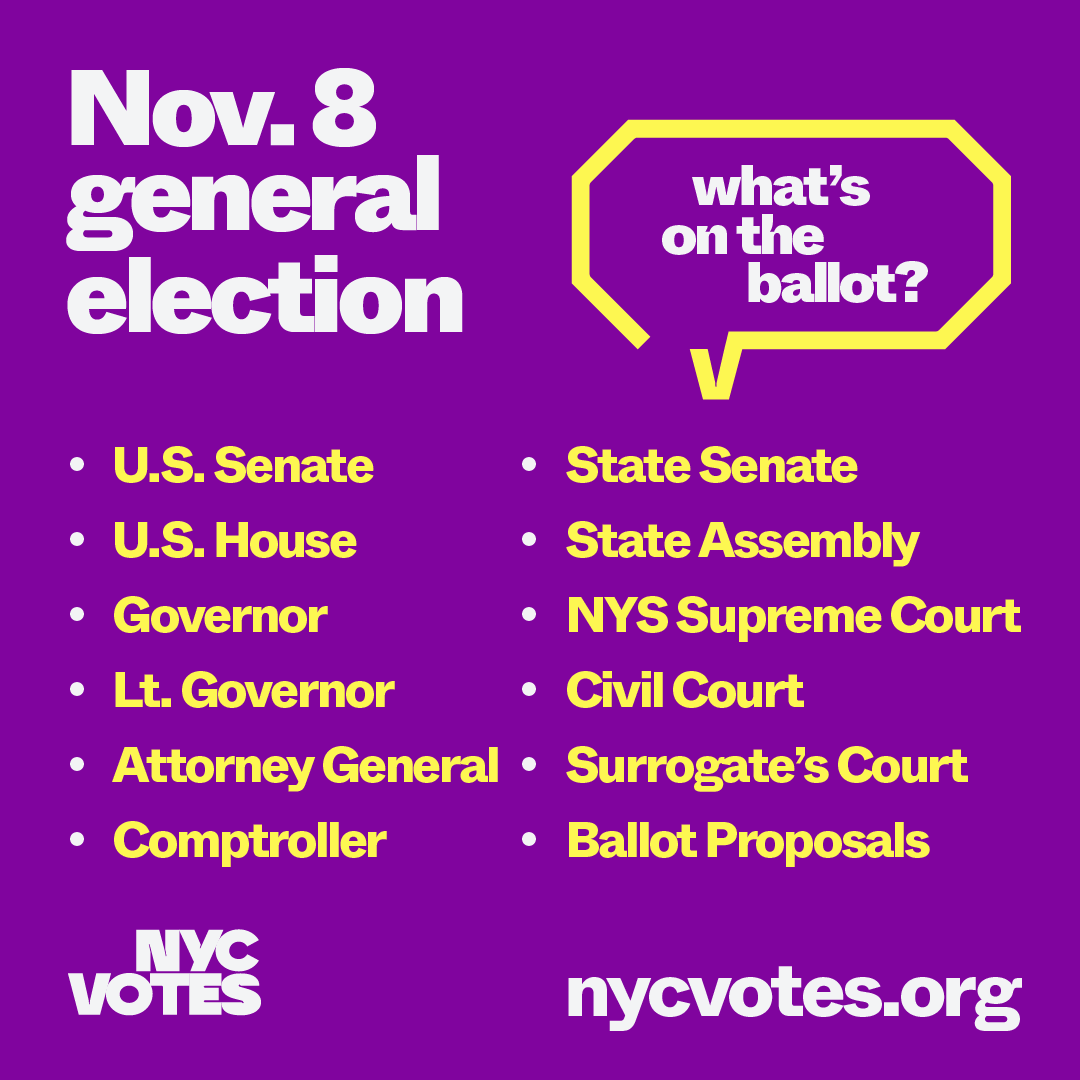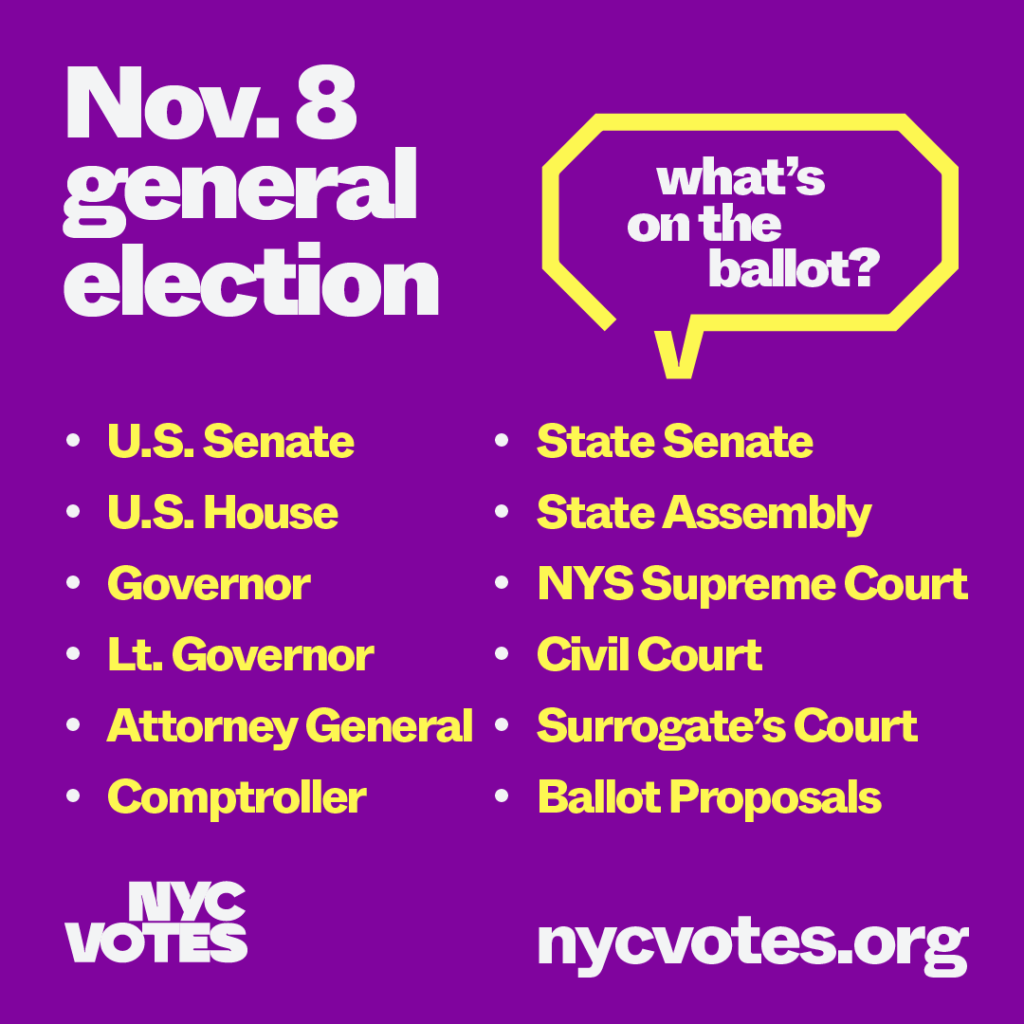 We're less than two weeks away from the November 8th general election and early voting starts this Saturday, October 29th. Criminal justice reform is on the ballot this year and it is vital that those who care about ending mass incarceration and the war on drugs turn out to vote in this election. Candidates across the political spectrum, up and down the ballot, are talking about criminal justice, public safety. and crime– some support reform, while some others don't. Major victories in the fight to end mass incarceration– including bail and discovery reform, #HALTsolitary, #LessIsMoreNY, Raise the Age and more – have become topics of debates in elections across the state. While some candidates support criminal justice reform, others want to expand mass incarceration and have even called for full repeal of hard-won legislative victories.
Wherever you live in New York, whatever your political or party affiliation, if you care about ending mass incarceration and fighting back against the forces of racist criminalization, then please study up on the candidates and their positions, and vote.
If you live in NYC, you can find information about early voting, election day, and absentee ballots here. If live outside of NYC, go here.
People with criminal or felony conviction are elibigle to vote in New York. Here's a breakdown of your voting rights:
Misdemeanor and violation convictions do not prevent you from voting, even if you are serving time in jail. If you are currently in jail for a misdemeanor or are awaiting trial, you can vote.
If you are currently incarcerated for a felony conviction, you are ineligible to vote. However, if you are convicted of a felony and your sentence is suspended, you can vote.
If you are convicted of a felony and you are released from prison, you can vote. However, you must register to vote again
If you have a federal felony conviction or a felony conviction in another state, you may still register and vote in New York.
If you are currently on probation or parole, you can vote.
Click here to learn more about your voting rights.
Finally, as you know, this year New Yorkers are voting for our next governor – if you missed it, heres a link to the one and only governor candidate debate. Let's get out and vote!
---
Rikers in Crisis– 17th Death This Year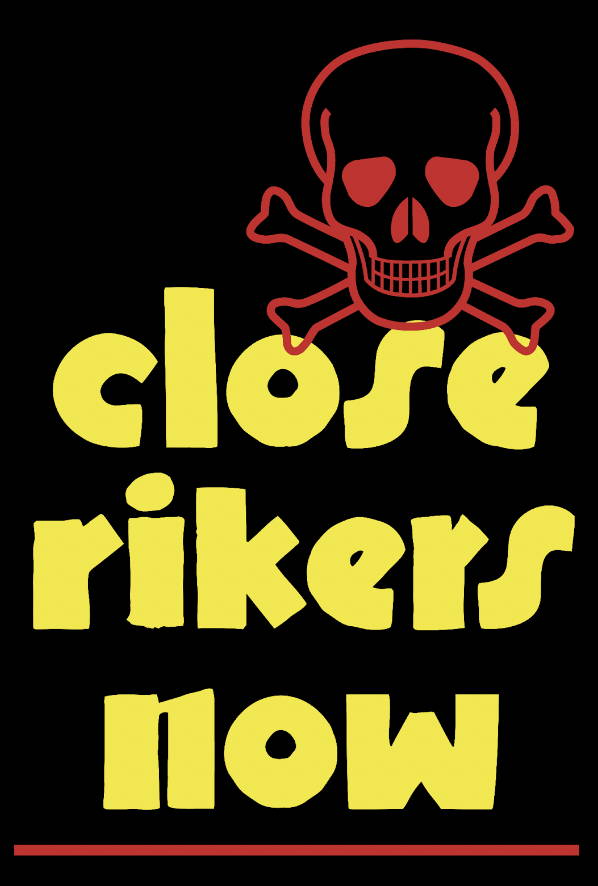 Over weekend, news broke that another person passed away at the Rikers Island Jail Complex. This the 17th incarcerated person to pass away on Rikers this year. In response to the recent death and ongoing crisis on Riekers, we put about a statement statement from our member Alfredo Perez. Here's an excerpt:
" Earlier this year, I spent 31 days behind bars at Rikers Island awaiting my parole hearing. During my time there, I was attacked and got my hand broken. The correctional officers did absolutely nothing to keep me safe. Instead, the correctional officer walked off his post and left me in the hallway. I was sleeping on the floor and received no medical attention. This is the treatment that human beings are getting in NYC jails. There is absolutely no compassion. I could have easily been one of the 17th people that passed away at Rikers."
To stop this crisis and save lives, Mayor Adams must CUT the number of people held on Rikers, SHUT down the Rikers Island jail complex, and INVEST in real community safety: housing, health care, education, jobs.
Join us by signing this petition to demand Mayor Adams take action to close Rikers! To get involved in our outreach, please email Melanie Dominguez at melanie@katalcenter.org.
---
Katal Quotes of the Week
These are some of the quotes we're thinking about this week.
"We don't have one leader. The beauty and strength of our movement is that every single one of us here is a leader."― Golshan, 28, a women's rights activist from Isfahan, Iran
---
For printing and distribution, download the Katal Weekly Update PDF version.
Katal works to strengthen the people, policies, institutions, and movements that advance equity, health, and justice. Join us: web, Twitter, Facebook! Email: info@katalcenter.org Phone: 646.875.8822.