In this issue:
Pedro Hernandez Released on Bail 
Calling for an End to Homeless Shelter Warrant Sweeps  
Welcome Sean Hill, Senior Legal Fellow
---
pedro hernandez released on bail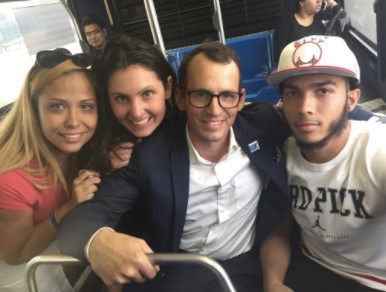 Photo from Robert F. Kennedy Human Rights. (From Left) Jessica Perez,
mother of Pedro Hernandez; Sierra Ewert, Robert. F. Kennedy Human Rights;
Wade McMullen, Robert F. Kennedy Human Rights; Pedro Hernandez.
Pedro Hernandez, a 17 year old honor student, spent a year incarcerated on Rikers Island for a shooting that multiple witnesses and the victim say he didn't commit. Like the families of most people in the jail complex on Rikers Island, Pedro's family couldn't afford to pay his bail while he awaited trial. What is unique about Pedro is that he resisted the consistent pressure he received to accept a guilty plea agreement, determined to prove his innocence in court.
Last week, as part of a larger campaign to reform the pre-trial detention policies in New York, Robert F. Kennedy Human Rights posted the $100,000 bail that Pedro needed to return home to his family and prepare for college, for which he has a full scholarship. We at Katal are heartened by this act of solidarity, and will continue to work with our members, supporters, and partners to call for bail reform in New York so that no one else has the devastating experience that Pedro and his family had to endure.
Welcome home, Pedro!
---
calling for an end to homeless shelter warrant sweeps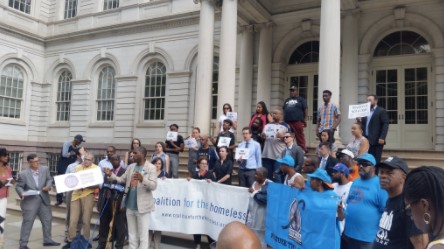 This week, Katal joined the Legal Aid Society, defender organizations, homeless advocates and elected officials on the steps of New York City Hall to call for an immediate stop to warrant sweeps in New York City homeless shelters. Despite the fact that shelter warrant sweeps conducted by the New York Police Department are in violation of official City policy, there have been multiple sweeps reported this year – most recently at a homeless shelter in Washington Heights. The NYPD seems to be prioritizing outstanding warrants for offenses that are low-level, non-violent, and dated – not recent or reprehensible crimes. These raids are violating for homeless New Yorkers who have sought emergency services and a safe space, and Mayor Bill de Blasio and the NYPD must take action to put an end to this horrifying practice.
---
welcome sean hill, senior legal fellow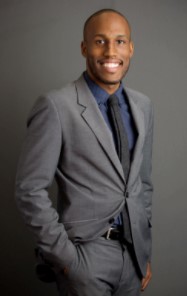 This summer, through a partnership with Robert F. Kennedy Human Rights, Katal welcomed Sean Hill as our Senior Legal Fellow. During the fellowship, Sean will be focused on two of our policy priorities that will reduce pre-trail detention populations in New York: speedy trial and bail reform. Prior to joining Katal, Sean was a Senior Staff Attorney with Youth Represent, a legal non-profit, representing formerly incarcerated youth in both criminal and civil matters interfering with their successful re-entry.
Sean has been a member of the Law4BlackLives Steering Committee since 2015, and the co-chair of the National Conference of Black Lawyers – New York Chapter since 2016. He is a 2012 graduate of Harvard Law School, where he was an active member of the Black Law Students Association (BLSA) and student government. We are thrilled to have Sean on board as we work to advance pre-trial reform!