In this issue:
In Memory of Umar
---
in memory of umar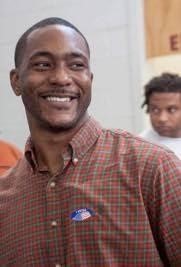 On July 17th, we lost our Brother Umar. As an organizer with the Southern Coalition for Social Justice and chapter leader of All of Us or None in Durham NC, he stood out as a caring, humble, andfierce leader. The Katal Center for Health, Equity, and Justice sends our condolences to the family andfriends of this amazing man and soldier for systemic change. Umar was an immense source of power andlight in his city and state, in the South, and across the movement for decarceration and liberation.
Losing Umar can only be described as emotionally devastating for us all. Many of us in the field — young and veteran — found a source of hope and inspiration in Umar. His work elevated the leadership of the people. He taught people how to see their existence as a complete commitment to "this work." He loves us all. His organizing in North Carolina was already starting to transform the decarceration movement there and help people on the national level place a premium on the leadership of Formerly Incarcerated People and their families in decision making. Umar embodied the heart and soul of the movement.
Umar's sudden passing leaves behind a gaping hole in the field. His loss reminds us how human and fragile our house is, no matter how much love and care we put into building it. It reminds us how valuable each of us are to each other and within the struggle against injustice. His name must be lifted because he will continue to be an example of community organizing integrity and Black Male leadership. His legacy will continue to remind us why we fight, and how we fight. We cannot leave anyone behind. Get some rest Brother Umar, we will always love you.
Rest in power, Umar.