In this issue:
Making Waves for Speedy Trial Reform
---
making waves for speedy trial reform
Katal has been up in Albany each week with our partners from JustLeadershipUSA, VOCAL-NY, and more pressuring the State Senate to fix New York's broken speedy trial process. On Monday, June 5th, we were joined by Kerry Kennedy, president of Robert F. Kennedy Human Rights for our largest lobby day yet! The following day, in a bipartisan vote, the Senate Codes Committee passed Senate bill 6500, a bill that would address the timely scheduling of criminal trials. While this is not the comprehensive reform that our system needs, this Timely Scheduling bill is a step in the right direction. WNYC caught notice and interviewed Katal's Co-Executive Director gabriel sayegh on this progress, which you can check out here.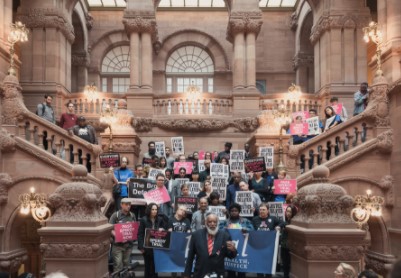 We will continue to fight for more robust reform through Kalief's Law to ensure that every step is taken to reduce unnecessary court delays, end unnecessary pretrial detention, and ensure the Constitutional Rights of New Yorkers are protected. We have two weeks left in the State legislative session to push the Senate to act! To join us in Albany for our next lobby day on Monday, June 12th, RSVP to Imani Brown at Imani@katalcenter.org or call 347-450-0818 for more information.