In this issue:
Katal Staff in Montreal for #HR17
Repealing the Broken "Blindfold Law" in NY
Katal's Myaisha Hayes Leads Fair Fare's Rally
---
katal staff in montreal for #hr17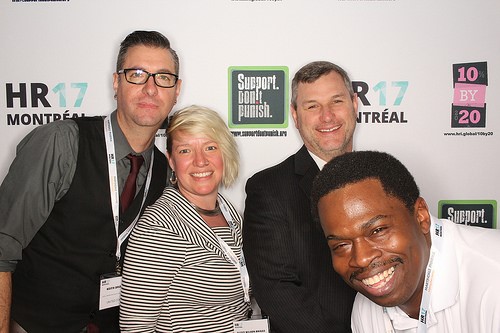 Katal staff in Montreal attending a conference, or the star cast of a hit new sitcom?

At Katal, harm reduction is a core principle in all our work. So this week, Katal staff were in Montreal for Harm Reduction 17 – the world's largest harm reduction conference. Hosted by Harm Reduction International (HRI), the biennial conference convenes people from around the world to discuss drug policy, drug user health, and efforts to end the global drug war. Katal staff also served as speakers. Want to learn more about harm reduction? Check out this short primer from HRI.
In this photo, left to right: Keith Brown, Director of Health & Harm Reduction; Alexis Briggs, Director of Research & Development; Brendan Cox, Director of Policing Strategies; and Lorenzo Jones, Co-Founder and C0-Executive Director.
---
repealing the broken "blindfold law" in ny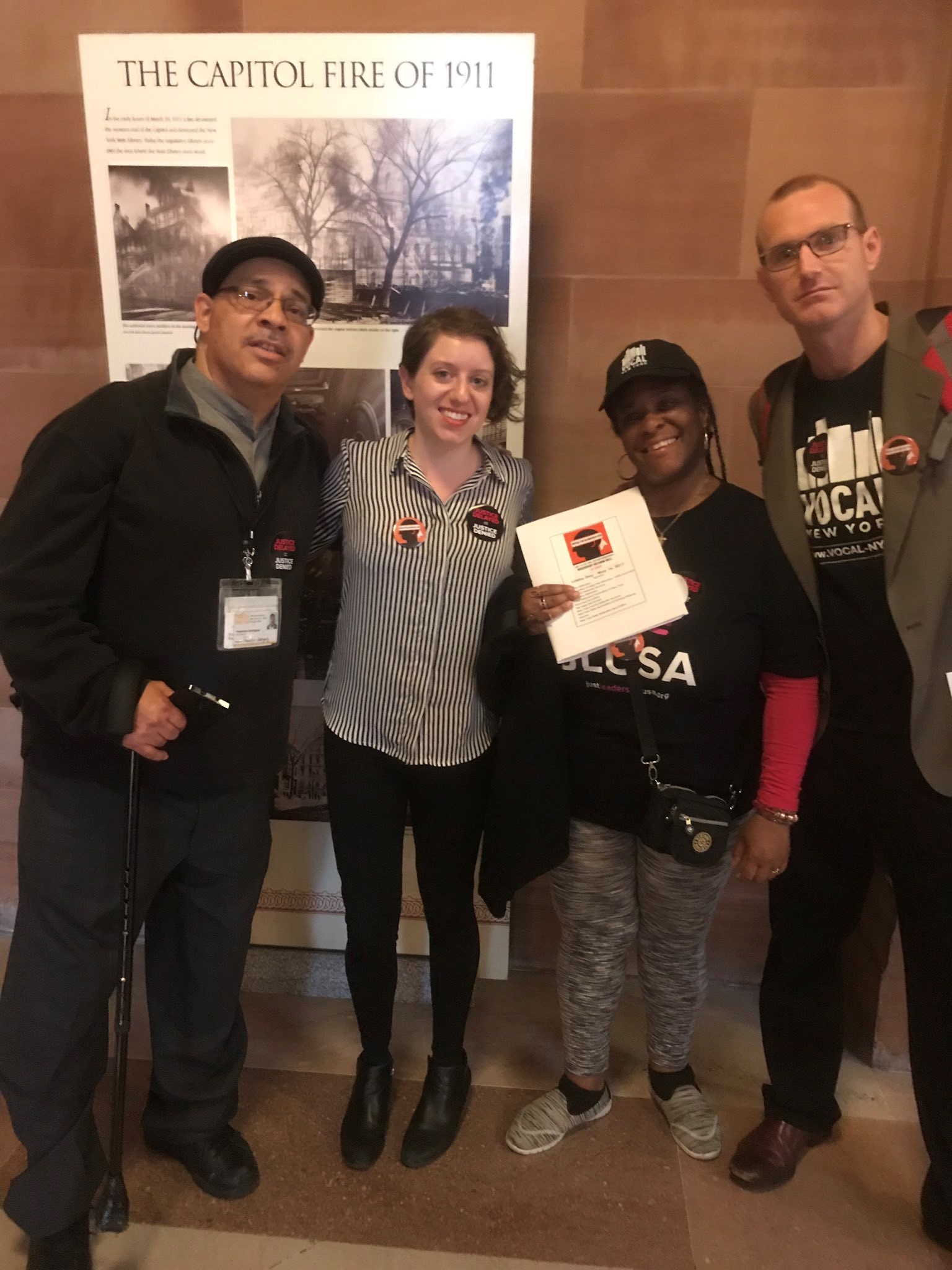 Katal's Mo Farrell, center, with advocates in Albany, NY. May 16th, 2017.
Katal was back in Albany, NY this week to education lawmakers about fixes to the state's dysfunctional court system. Katal's Policy Strategist, Mo Farrell, joined advocates in pushing for discovery reform and repealing the outrageous "Blindfold Law." The "Blindfold Law" is about discovery in criminal cases, and allows prosecutors to withhold vital information – including police reports – from the defense team until the day a trial begins. This means the defense can't effectively prepare, thus prompting more trial delays. New York is one of only four states in the nation that still operates with this dysfunctional system. Together with our partners, Katal is working to make our courts more efficient and fair. Check out this 10 second clip of the rally in the capitol!
---
katal's myaisha hayes leads fair fare's rally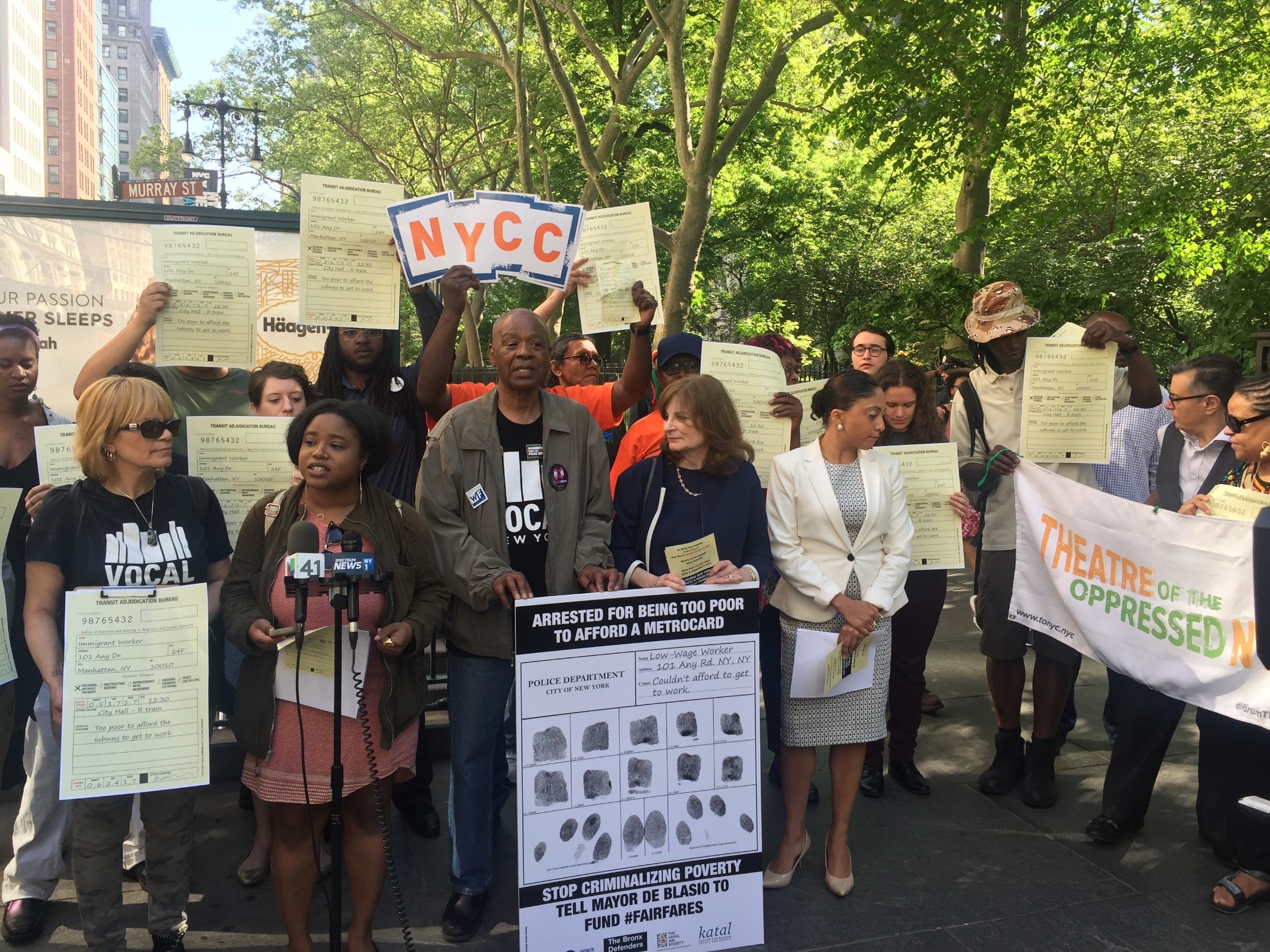 Myaisha Hayes, center, leads the Fair Fare Rally in NYC on May 17th, 2017.
Ending mass criminalization is part of Katal's mission. This week, Katal's Lead Organizer, Myaisha Hayes, was invited by our at Riders Alliance to lead the #FairFares Campaign press conference. subway fares in NYC keep rising, creating a burden for those who can't afford the escalating fees. Communities of color are particularly hard hit by these rising fares. Worse, police are arresting thousands for fare-beating, saddling them with a permanent criminal record before sending them off to Rikers Island. And the costs to taxpayers for this criminalization is astronomical.
Katal joined advocates to demand a fix: Mayor Bill de Blasio should stop criminalizing New Yorkers who are too poor to afford rising MetroCard costs. Instead, the mayor should support Fare Fairs – offering low-income New Yorkers reduced-fee MetroCards. We'll keep you posted as we learn more about The mayor's plans.