In this issue:
NYC: Turn Out for Delrawn Small in Union Square Today
Katal's Community Conversation About Bail Reform in NY
Katal Spring 2018 Internship
---
nyc: turn out for delrawn small in union square today
On Monday, NYPD Officer Wayne Isaacs was found not guilty of murder and manslaughter for shooting and killing Delrawn Small. Delrawn, who was unarmed, was shot three times in Brooklyn on July 4, 2016 in front of his family members – including young children –  and was left to bleed to death on the ground by Officer Isaacs, who made no attempt to offer emergency aid or alert 911.
Today (Thursday, November 9), starting at 4:30pm in Union Square, Katal will help support Delrawn's family by participating in a rally to protest the injustice of this decision and call for Mayor de Blasio and NYPD Commissioner O'Neill to hold Officer Isaacs accountable for killing Delrawn. We hope you will join us in this call for accountability. You can find more information and RSVP here.
---
katal's community conversation about bail reform in ny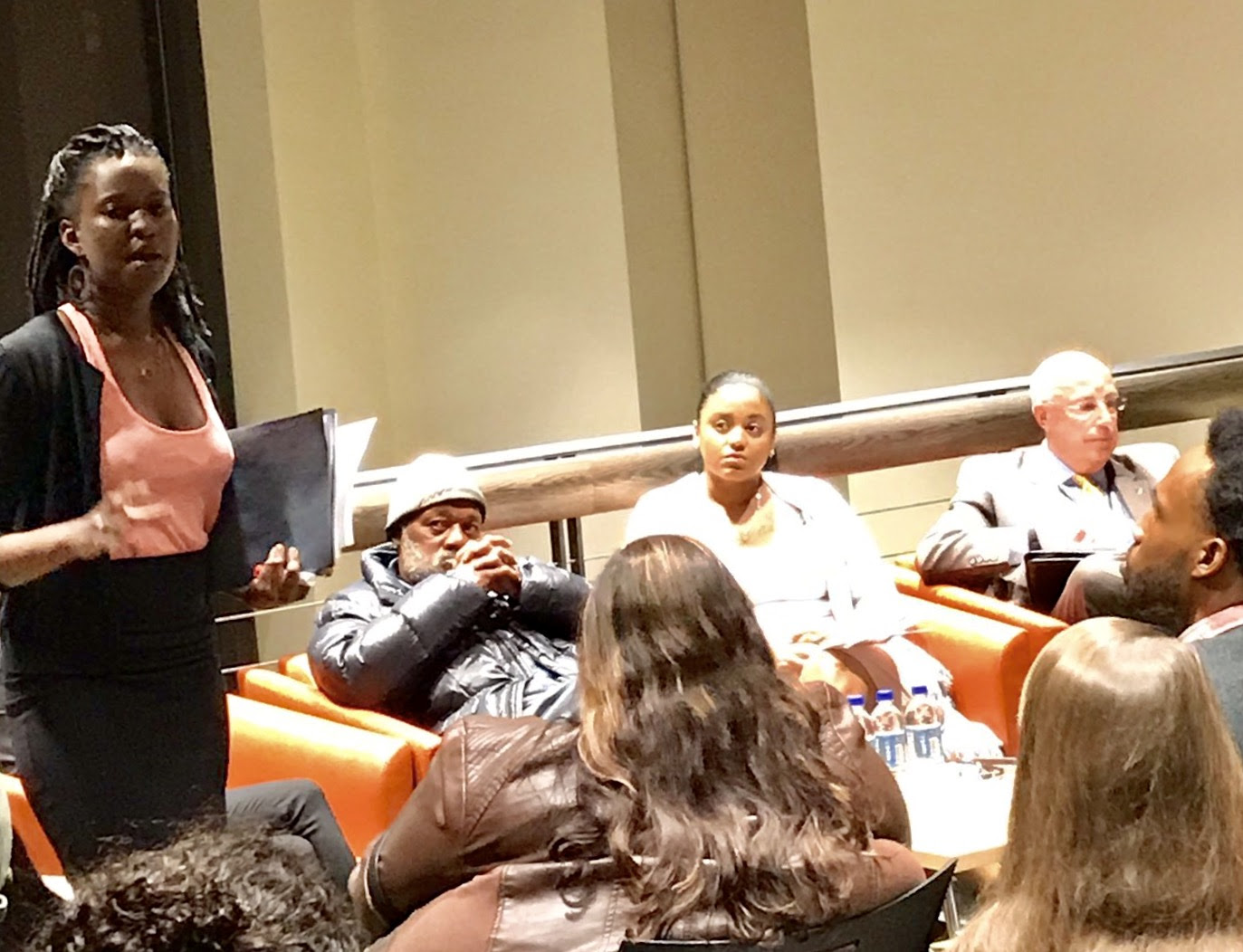 (From left to right: Imani Brown, Anthony Bryant, Vanessa Nieves, Judge Stephen Herrick)
Katal partnered with the Center for Law and Justice in Albany for our first in a series of community conversations about bail reform in New York on Monday. We had a packed house full of energy on a rainy night, a testament to the fact that New Yorkers care deeply about the issues of justice, fairness, and equal opportunity. We had an incredible lineup of presenters and panelists, including Insha Rahman of the Vera Institute of Justice, Katal's Sean Hill, Judge Stephen Herrick, youth organizer Vanessa Nieves, and Anthony Bryant – a Law Enforcement Assisted Diversion (LEAD) participant.
In the next few months, we will continue to host community conversations about what bail is, why the system is broken, and what we must do to fight for more fair pretrial justice practices in New York. If you or your organization, school, community group or church are interested in hosting one of your own bail reform events, please contact Sean Hill (shill@katalcenter.org, 347-921-0826).
---
katal spring 2018 internship
We are seeking passionate and hardworking people to be Katal's interns for Spring 2018 in our New York City, NY office; Albany, NY office; and Hartford, CT office. These interns will work with a professional team of organizers, advocates, and policy experts, and receive training and support for their professional growth and development. They will participate in criminal justice reform, drug policy, and public health related projects like pretrial justice in New York (including bail and speedy trial reform), the Albany Law Enforcement Assisted Diversion (LEAD) program, and more. Spring Internships start in January and conclude at the end of June. To qualify, candidates must be available at least two full days a week. For more information, and to find out how to apply, visit this page.
Those interested in contributing to Katal, but can't commit to two full days a week, should contact us about volunteer opportunities at info@katalcenter.org.