In this issue…
Katal at 5!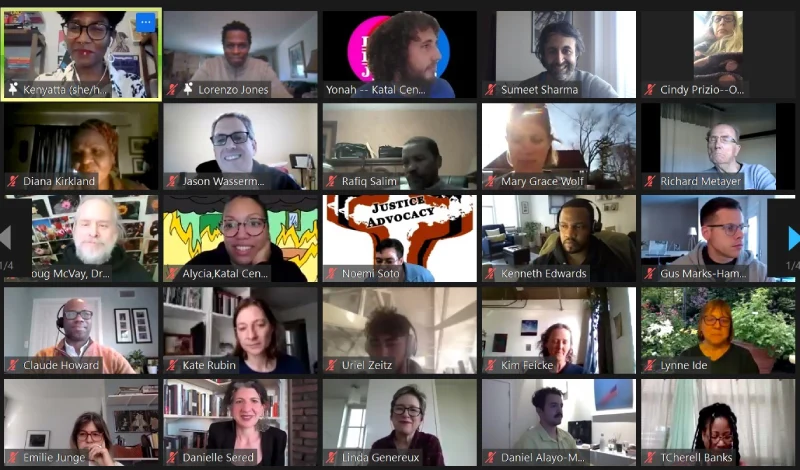 Big News from New York: Legalizing Cannabis and Passing #HALTsolitary
CT Statewide Criminal Justice Reform Call
Katal at 5!
A warm atmosphere for our first Katal at 5 Dialogue Series
On Monday, we held the first event in our #Katal5 Dialogue Series. And it was amazing. Big, big thanks to our brilliant speakers — Kassandra Frederique, Dwayne Betts, and Danielle Sered. After Kenyatta's beautiful opening and Lorenzo grounding us in context, the conversation went very deep very quickly. The discussion in the chat room was also hot, thanks to all the engaged attendees.
We appreciate all the well wishes for our 5-year anniversary. Thanks again to those of you who joined us on Monday (including the moms of more than half our staff!). If you missed the event, check out our thread on twitter for a recap. Stay tuned for details about the next event in our #Katal5 Dialogue Series. And if you'd like to support our work, you can make a donation here!
---
Big News from New York: Legalizing Cannabis and Passing #HALTsolitary
Two major victories in New York this week, on bills led by our partners and allies.
Marijuana is now legal in New York. After years of organizing and advocacy by Start Smart NY coalition — of which Katal is a member — the Marijuana Regulation and Taxation Act was  passed this week and was signed into law Wednesday. The new law is oriented around racial equity, and immediately legalizes the possession of cannabis in New York. It creates a regulatory body to oversee the new marijuana industry, sets up a fund to invest revenues from the sale of cannabis to historically impacted communities, and automatically expunges criminal convictions involving the use or sale of marijuana in New York. And more. We are thrilled to have supported the MRTA as a member of the Start Smart NY Coalition, and we applaud Kassandra Frederique and Melissa Moore of the Drug Policy Alliance for their leadership on this historic win!
In another major victory, the #HALTsolitary bill was passed last week and signed into law on Wednesday. The #HALTsolitary coalition, led by Campaign Against Isolated Confinement (CAIC), has been fighting for this win for years. The bill places limits on the amount of time a person can be placed in solitary confinement and creates alternative therapeutic and rehabilitative confinement options. The new law ends decades of psychological torture and puts an end to the suffering and harm that comes with prolonged solitary confinement. Katal has supported the #HALTsolitary campaign and we salute NYCAIC for this historic win!  More details here.
---
CT Statewide Criminal Justice Reform Call
We hosted our Monthly CT Statewide Criminal Justice Reform Call this morning, with a timely set of updates on issues, campaigns, and projects advancing statewide reform. Our speakers covered the latest on criminal justice reform from Connecticut, including:
Details on the state of the CT budget & the vaccine rollout in CT.
Recent movement of the PROTECT Act, SB 1059, which limits the use of solitary confinement and makes other necessary reforms to CT's Dept. of Corrections.
Clean Slate reform, which will expunge the criminal records of over a quarter of a million people in the State..
The #HUSKY4Immigrants campaign and the fight to expand Connecticut Husky Health to immigrant communities.
Updates from the fight to make cannabis legal in CT, with automatic expungement of past convictions and reinvestment into impacted communities.
Updates about how participants could take measures to protect their health, and their community's health, in the midst of Governor Ned Lamont's vaccine rollout.
We hold these calls once a month, and if you want to learn about what's happening on criminal justice reform in Connecticut, then definitely join us next month. Register to join the next CT Statewide Criminal Justice Reform Call  on Thursday, May 6th from 11:00a.m. – 12:00 noon.
---
The Katal Weekly Update is changing!
As announced last month, we are changing the format of Katal's Weekly Update. Starting next week, the Weekly Update will split into two separate newsletters — one for our work in Connecticut, and one for our work in New York.
Please click here to take 1 minute to update your contact information, so we're sending you the content you want!
---
Keep practicing social distancing, wear your mask, wash your hands, and check in on your neighbors. If you want to get involved, learn more about our work, or just connect, please don't hesitate to reach out.
Katal works to strengthen the people, policies, institutions, and movements that advance health, equity, and justice for everyone. Join us: web, Twitter, Facebook! Email: info@katalcenter.org. Phone: 646.875.8822.