In this issue…
TONIGHT: #CutShutINVEST Community Conversation & Campaign Kick Off
#LessIsMoreNY Faith-Based Day of Action
#FreeThemNow Posters
TONIGHT: #CutShutINVEST Community Conversation & Campaign Kick Off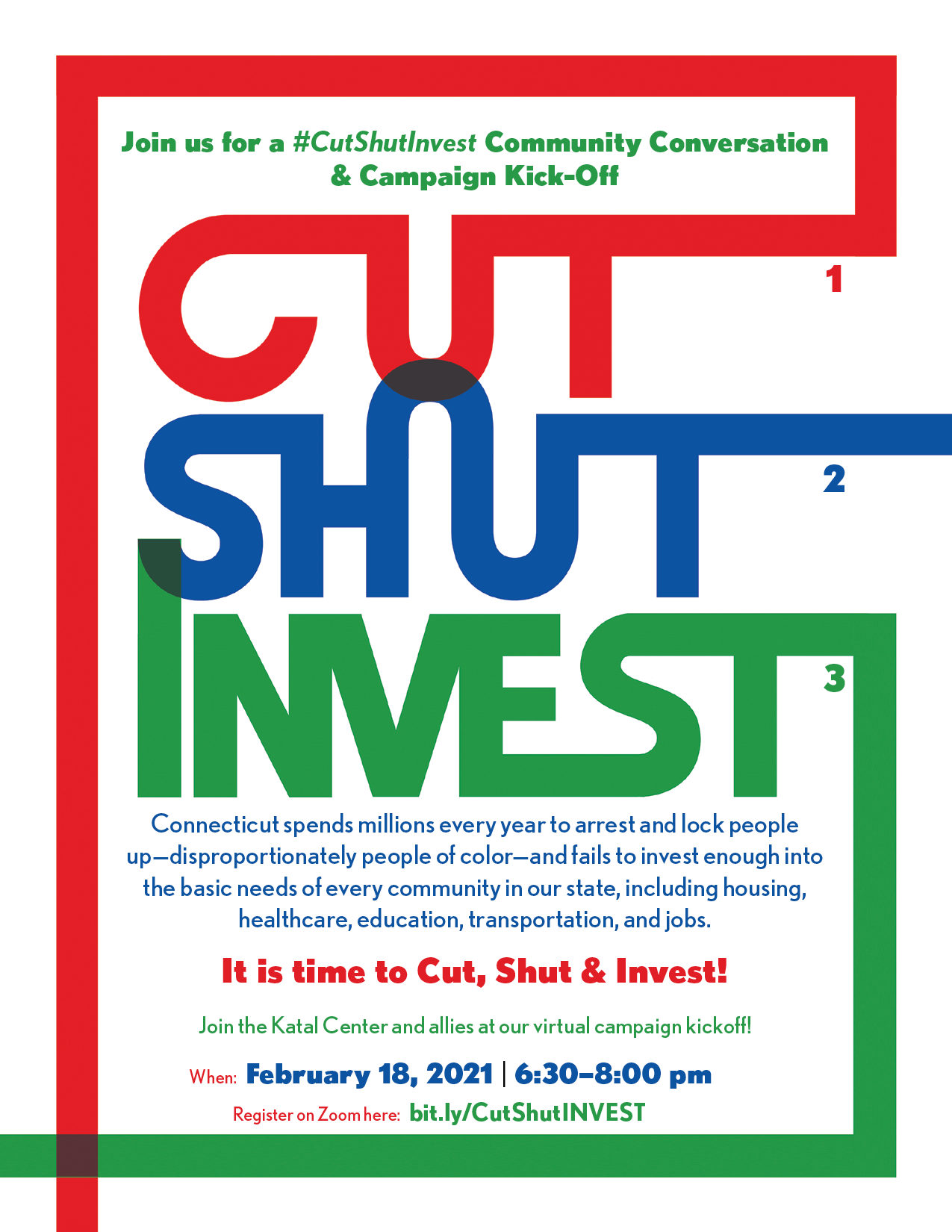 Tonight, join us virtually for a Community Conversation and Campaign Kickoff for #CutShutINVEST  – our campaign calling on the Governor and Legislature to
Cut the number of people incarcerated in jails and prisons, cut the number of people on probation and parole, cut the number of correctional staff, cut down the funding to Department of Corrections
Shut prisons down, starting with Northern Correctional Institution
Invest in the communities most harmed by systemic racism and mass incarceration, into housing, healthcare, education, jobs, and more.
Join the conversation tonight by registering to join on zoom here!
If you missed our #CutShutINVEST release from last month, check it out here.
---
#LessIsMoreNY Faith-Based Day of Action

New York Faith Leaders Coming Together to Support  #LessIsMoreNY
On Wednesday, we joined faith based groups and community groups from across New York for a Day of Action to call on state legislators, New York State Senate Majority Leader Andrea Stewart Cousins, New York State Assembly Speaker Carl Heastie, and Governor Andrew Cuomo to pass the Less Is More Act. And to remind them that Less Is More is not just a common sense reform on parole, but the right thing to do.
A diverse group of congregations and leaders took action with us including B'nai Jeshurun, Central Synagogue, Congregation Beit Simchat Torah (CBST), Congregation Beth Elohim, New Beginnings Tabernacle of Deliverance, Park Slope Jewish Center, St. Augustine's Roman Catholic parish, Temple Shaaray Tefila, The Riverside Church, Truah – Human Rights Watch, St. Mark's Church in-the-Bowery, and the Zen Center of Syracuse. 
We're grateful to Rabbi Hilly Haber of Central Synagogue for the  poignant remarks kicking off our Day of Action, and to Reverend Kevin VanHook of the Riverside Church   for the uplifting reflections to close out our call. Take a look at our press release from the Day of Action for statements from faith leaders across New York in support of Less Is More!
---
#FreeThemNow Posters
Lisa Puglisi and Jerry Smart of Transitions Clinic show their Free Them Now Poster!
As you probably know, in too many places, incarcerated people have been left out of pandemic response plans, including access to the vaccines. Katal created *Free Them Now* Posters in support of the ongoing efforts to bring attention to the COVID-19 crisis in prisons and jails, and we're sending these out to groups for free. See the graphics below. Details & order form here.
Each poster & placard is 27″ x 19″, big enough to grab attention. We're sending these out, for free, until they're gone. Use this form to order posters for your group. The graphics of the posters are attached below and can also be used across digital platforms.
These posters are part of a collaboration we're doing with Josh MacPhee, a member of the Justseeds Artist Cooperative. Big thanks Josh for his work on these.
---
Keep practicing social distancing, wear your mask, wash your hands, and check in on your neighbors. If you want to get involved, learn more about our work, or just connect, please don't hesitate to reach out.
Katal works to strengthen the people, policies, institutions, and movements that advance health, equity, and justice for everyone. Join us: web, Twitter, Facebook! Email: info@katalcenter.org. Phone: 646.875.8822.