In this issue…
#FreeThemNowNY Tweetstorm
CT Statewide Criminal Justice Reform Monthly Call
#FreeThemNowNY Tweetstorm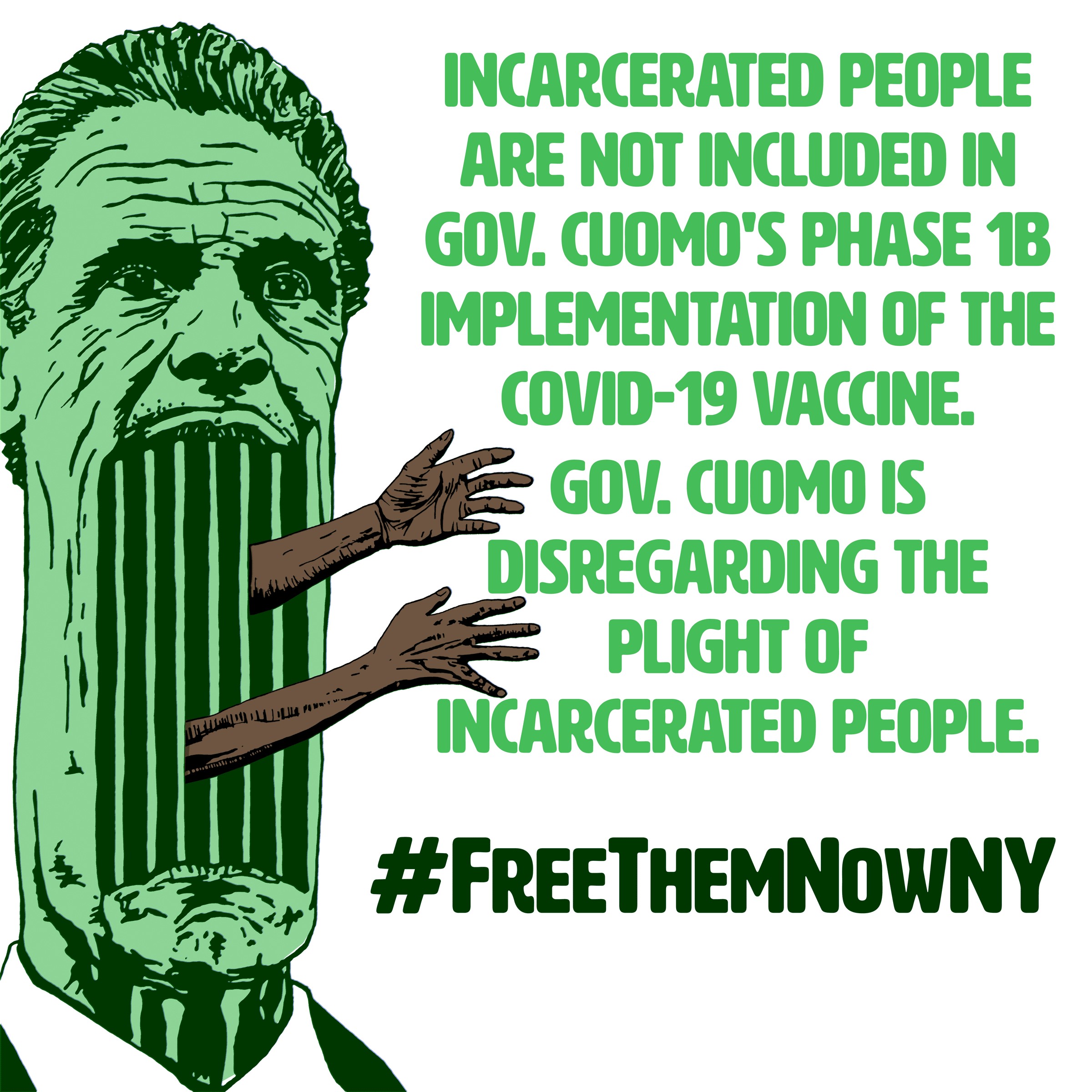 As New York State faces the worst public health crisis in the last century, Governor Andrew Cuomo and state officials have failed to develop a comprehensive plan to tackle the crisis of COVID-19 in jails and prisons across the state. As a result, more and more incarcerated people have gotten sick from COVID-19 in New York. And there has been a devastating rise in COVID-19 deaths among incarcerated people.
Despite these facts, Gov. Cuomo failed to include incarcerated people in any phase of the state's COVID-19 vaccination plan. New York is the only state in the Northeast to not prioritize people in prisons for vaccinations and only one of three states on the east coast, joining South Carolina and Florida, to inexplicably disregard the plight of incarcerated people in determining who will gain protection from COVID-19.
This week, we organized a tweetstorm on Twitter to demand that Gov. Cuomo:
Include incarcerated people in NY's COVID-19 vaccination plan.
Ensure people in prison have access to PPE & COVID-19 testing.
Release people in prison to stop the spread of COVID-19.
The action came directly out of Katal member meetings, and Katal members led the way online. We were joined by our partners and allies, as well as by a number of elected officials including NYC Councilmember Yganis Rodriguez and Brooklyn District Attorney Eric Gonzalez. Thanks to all who joined us to put pressure on Gov. Cuomo to #FreeThemNowNY.
Join the effort and send a tweet to Gov. Cuomo.
---
CT Statewide Criminal Justice Reform Monthly Call


This morning, we hosted our February CT Statewide Criminal Justice Reform Monthly Call! We had a great group of speakers:
John Bailey II, TCG, gave us a status update on the legislature and CT budget, with information about the CT DOC Commissioner's testimony to the legislature last week.
Ashley Blount, CTCORE-Organize Now!, sharing how people can get involved in the movement to #CancelRentCT.
Jason Ortiz, CURE CT and the Minority Cannabis Business Association, speaking about the effort to legalize cannabis in CT with equity for historically affected communities at the center.
Earl Bloodworth, Bridgeport Mayor's Initiative for Reentry Affairs (MIRA), presenting on CT's reentry roundtable and legislative proposals on reentry.
Barbara Fair, Stop Solitary CT, giving details about the Protect Act which would end the use of solitary confinement in CT and the effort to close Northern CI.
Taylor Ford, Katal Center, providing a breakdown of the campaign to #CutShutINVEST in CT.
Join us for our next CT Statewide Criminal Justice Reform Call on Thursday, March 4th from 11 – 12 p.m.! Register for the call, hosted virtually on Zoom, here.
---
Keep practicing social distancing, wear your mask, wash your hands, and check in on your neighbors. If you want to get involved, learn more about our work, or just connect, please don't hesitate to reach out.
Katal works to strengthen the people, policies, institutions, and movements that advance health, equity, and justice for everyone. Join us: web, Twitter, Facebook! Email: info@katalcenter.org. Phone: 646.875.8822.